PhoneArena Portal: Pepcom Wine, Dine, & Demo 2015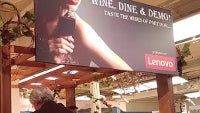 Just before the Thanksgiving holiday weekend, we were in the Big Apple for Pepcom's Wine, Dine, and Demo event. It's the last big hoorah for companies to show off their latest products for the holiday season. More importantly, some of the stuff shown off were being teased, being prepped for launch post CES, which isn't too far away at this point.
From big companies, to the smaller unknown ones, Pepcom's event covered the full gamut. Companies such as Lenovo, Huawei, Acer, and BlackBerry showed off their most popular devices at the event, but none of them were necessarily showing off anything new that we haven't seen otherwise. As for the smaller players in the pond at the show, our interest was piqued by several accessories – and some non-mobile related stuff.
Two companies above all managed to spark our interest. The first is
Horizon Hobby
, a Chicago-based company that's known for manufacturing a variety of RC controlled devices. At Pepcom, they were showing some of drones ranging from entry-level and affordable models, to a more complex drone rich in features. Ranging in price from $70.00 to over $1000, all of the drones have a smartphone element in play with them because they can be used as viewfinders for the cameras that are on board the drones. Naturally, depending on the unit, the drones will feature better cameras for recording – as well as longer range.
The other thing to catch our attention during Pepcom was the
RIF6 Cube
, a portable projector that retails for $299.00. There's a hefty cost associated with it, mainly due to its compact and travel-friendly size – giving users the convenience of watching a video or something at a moment's notice. Visually striking for its cube design, the RIF6 Cube comes included with an articulating tripod for quick adjustment. While we're told that it can project an image up to 120-inches at a resolution of 854 x 480, we're skeptical about its luminance at that projection size. Smaller projections appear sharp and bright, but as we know, it becomes tougher to see and it becomes less detailed the larger the projection.
That's about it folks! Now that the holiday season is upon us, we're eager to see what'll come out of CES in January.