PhoneArena Portal: Experiencing the HTC Vive
9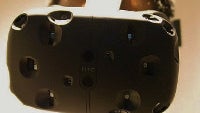 Back during MWC 2015 earlier this year, HTC introduced and unveiled its collaborative project with Valve, the
SteamVR powered HTC Vive virtual reality headset
. Being in the early stages of its development, HTC invited us to check out the promising new technology offered by the Vive. While I was looking forward to checking it out myself, my colleague
Nik ended up getting the demo
, since I was outbound back to the US after doing exhaustive coverage of MWC.
Well, the folks over at HTC invited me again to a demo experience of the HTC Vive, so of course, I accepted the opportunity. Now, I won't go into too much detail about all the specifics, since most of your folks are probably aware about it. At its core, the HTC Vive is a virtual reality headset developed by HTC and Valve, worn over the head to deliver an immersive virtual reality experience. For clarification, though, this was a pre-production model I was being given access to. They tell me that the headphones will be integrated into the system, rather than being an entirely separate thing – such as the case in my demo.
Needless to say, I came away impressed by the HTC Vive. While I don't consider myself an avid enthusiast of the whole virtual reality experience, I've had my fair share of encounters – like the Oculus Rift, Google Cardboard, Samsung Gear VR, and the many others that employ similar technology. What makes the HTC Vive so compelling for me is its ability to allow the user to roam freely in space, interact with the environment using specialized remotes, and its illusion of reality.
Specifically, there were a couple of times during the demo when I felt vertigo looking over the railing of a ship, or when the floor underneath me started to come apart in this futuristic robotic factory. Without a doubt, I knew it wasn't real, but the feeling was profound enough to make me feel hesitant about looking over. It's that real, which is crazy to say! As an avid gamer, however, I really hope that developers deliver some slick experiences/titles to really showcase the incredible power of this technology.
Sure to delight first-timers, some of my concerns regarding the HTC Vive include the wire that's used to tether us to a PC. Initially, it wasn't a problem, as I was getting acquainted moving around in free space, but after feeling more confident and bold, I found myself sometimes tripping over it – forgetting about it entirely too as I quickly twirled around or something. Secondly, the graphical visuals need some tweaking to bring it to the level of the PS4, XBOX One, and some high-end gaming PC rigs. From my experience, I'd put the graphical visuals on par to what you'd get with the PS3 – first year titles, that is. And finally, I'm curious to know how they'll be able to implement movement over vast spaces (think first person titles that require you covering vast distances).
Despite them, I'm optimistically convinced by what the HTC Vive is bringing to the table. It's innovative, that's for sure, but more importantly, it's on a higher level than some of its esteemed rivals because of its immersive interaction and its ability to allow us to move freely in space – on our own accord and time. Trust me, I'm looking forward to seeing how the final product turns out. Don't forget to check out the video below!