Parrot Zik Bluetooth headphones hands-on
4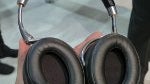 You know that you can spot the serious audiophiles on the streets since they tend to wear some of those ear-encompassing headphones, whereas other everyday Joes tend to sport those dinky ear bud styled ones instead. Well, Parrot unveiled something exceptionally fresh during CES that will perfectly complement smartphones, and more importantly, something that packs some high-tech under its carriage.
Initially, the
Parrot Zik Bluetooth Headphones
didn't seem to be anything spectacular, but once we're able to put them on, we instantly knew this is something that will cater to the needs to hardcore audio buffs. These aren't some kind of cheap headphones, well, that's because it employs a ton of
premium materials and a solid construction
to make us believe that a lot of love has been put into it. Putting the Parrot Zik Bluetooth headphones, they comfortably encompass our ears – while minutely muting some background noise to give more presence to the tones it's blasting. Being a Bluetooth enabled device and all, you'll be able to chat away with friends using it, however, most of its magic is found listening to music.
Specifically, Parrot has placed quite a few sensors to offer an immersive hands-free experience. For example, it'll pause a song if you happen to remove it, while automatically playing when they're on our ears – so there's minimal interaction with it. Moreover, one side of the headphones is graced with a touch sensitive surface that's used for navigational control. Swiping up/down on the surface, we can increase/decrease the volume, while swiping left/right will reverse/forward the song. Oh yeah, did we mention that it has NFC technology too to quickly interact with smartphones?
Overlooking the technology behind it all, we're amazed with the level of quality its able to muster up. Not only does it produce some robust tones that are accompanied with the perfect balance of bass, but it never sounds too overbearing when placed on the loudest volume setting. Above all, it'll be interesting to see what price point it'll be flaunting when it's released because Parrot declined to mention a specific date – as well as its launch date.