PC industry freefall fastest on record, as phones and tablets take over
31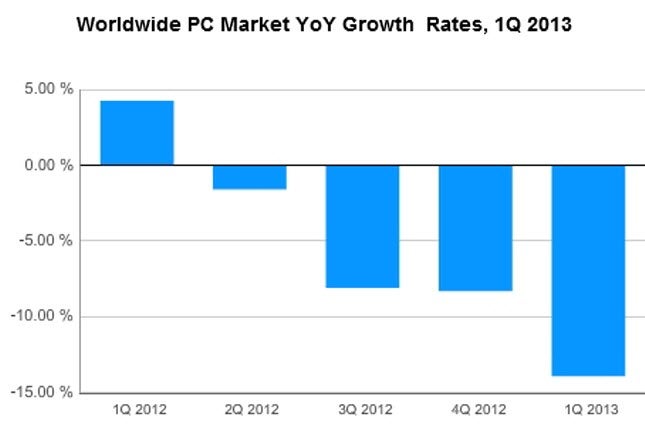 Things are looking pretty bad for makers of "traditional" computing devices like desktops and laptops. As more and more mobile gear like smartphones and tablets gets into the hands of users, all the basic tasks the general population needs can now be performed on them, hence postponing or ditching the refresh cycle altogether.
This trend has led to a nosedive in PC sales, in fact
the biggest slump in two decades
, or, basically, since the computer entered the mass market stage. Both Gartner and IDC are registering 11.2 and 13.9% decline from the same time last year, respectively.
This is a pretty unpleasant whipping for juggernauts like HP, Dell and the like, and only Lenovo seems to be keeping it steady, even registering growth to 15.3% of the market share, making it very close to the still-leading HP. Lenovo, however, didn't sleep through the shift to mobile computing, and besides its adequately-priced traditional laptops, it
issued a number of innovative form factors like the IdeaPad Yoga line
, as well as a few phones and tablets of its own.
Bear in mind that the jaw-dropping slump in the slide above has the making of a full-blown crisis indeed, but the stats don't include tablets, and the professional computers even registered an upwards trend, dedicating the reasons for the nosedive solely to the average consumer, whose computing needs now seem to be satisfied very well from just phones and tablets.