Oppo's latest iPhone clone packs a hi-spec selfie camera
39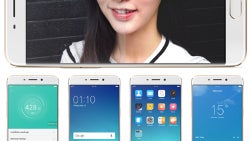 When assessing the credentials of a smartphone's camera, we tend primarily to focus on the rear-facing shooter. After all, it's essential that
every
detail of our dinner be shared with the world via social media. But aside from snapping images of what's on our plate, many of us like to capture our own faces. Thus, a good front-facing camera is also high on the agenda for many. If you'd like a selfie shooter capable of picking up all of those little blemishes, Oppo has just launched a new handset designed specifically with yourself in mind.
Not so long ago, it was all about the main camera, with the secondary camera generally applied by OEMs as an afterthought. But the seemingly insatiable craze for selfies has forced vendors to up the ante, and Oppo claims the front-facing 'Hi-light' camera of its new F1 Plus is
"four times more sensitive [and] has twice the dynamic range"
of its rivals. The company also says the F1 Plus' selfie camera, which boasts f/2.0 aperture,
"captures shots with four times less noise"
than those of competitors.
Powered by MediaTek's octa-core Helio P10 with 4 GB of RAM, the F1 Plus also offers a sizable 5.5-inch AMOLED display, 64GB of expandable storage, and VOOC Flash Charge, which should minimize the wall-hugging. The rear camera, meanwhile, is a 13-megapixel effort.

F1 Plus press image details

Touch ID

Touch Access..
You may have noticed from the pic above that the new F1 Plus also looks conspicuously like the Apple iPhone. The Chinese firm has gotten something of a reputation for this kind of behavior, having recently dropped the
extremely Apple-esque
R9
and
R9 Plus
. Looking at this new handset, Oppo appears more than happy to continue with its practises.
The F1 Plus will begin life in India before branching out to other parts of Asia, the Middle East and North Africa. It will also retail online in Europe from next month at a cost of €389 or £299. This equates to around $425 in USD, though don't expect this iPhone-looking device to reach the States any time soon.