OnePlus 5T hands-on
35
The fight has been fierce as we quickly approach the crucial holiday season! The majority of phones have been either announced or released by now, but there are still a few stragglers who are intent on making the last impression. From the looks of it all, OnePlus is seemingly one of them as they finally announced its offering a week before Thanksgiving and the start of the holiday shopping season. What's really intriguing, though, is the short time between announcements for OnePlus. We've seen plenty of solid competitors thus far, so its latest offering in the OnePlus 5T has a tough road ahead of itself if it intends on never settling and staying relevant in a space that's occupied by several relevant things already.
Design
You know what? Even though the OnePlus 5T features subtle changes to its design over the previous OnePlus 5, one that continues the legacy metal construction synonymous with its flagships, there's something satisfying in that it doesn't follow the trend of metal meets glass that has become a tireless trend amongst phones of late. Flaunting a unibody aluminum body, its construction is undoubtedly solid and feels significantly more durable than its glass meets metal contemporaries. For the most part, the three dark coatings applied to the body, which are 14 microns thick, does nicely to mask those antenna lines in the back – making for a more cohesive look.
A notable change to the design is seen in the fingerprint sensor, which is now positioned in the back, just below the camera and above the signature OnePlus logo. This change was a necessary change to make for a distraction-free look with the front of the phone, but we're told that this updated ceramic fingerprint sensor is now faster with its recognition – unlocking the phone in under 0.2 seconds.
Obviously, there's not a huge change with the design of the OnePlus 5T, which continues to employ the same design language that the series is known for. While there's an undeniable premium look and feel with the phone, the all-metal construction means that there's no water-resistance design, nor wireless charging on board, which are two key features that a few of its contemporaries offer. But hey, at least they kept the headphone jack, so kudos for that!
Display
Following the trendy near bezel-less designs that have become rampant these last few months, as everyone under the sun has adopted this design philosophy, the OnePlus 5T takes the plunge as well with its 6.01-inch 1080 x 2160 Full Optic AMOLED display with 2.5D Corning Gorilla Glass 5 protecting it. Yes, we appreciate the move to that 18:9 screen aspect ratio, dishing up a screen-to-body ratio of 80.5%, but staring into the resolution they opted to go with, it seems relaxed compared to the quad-HD beasts out there that push the boundaries.
From our quick inspection, there's still a lot to like about the new display. For starters, it's still more than detailed from a normal distance, colors appear punchy in tone, and there's a satisfying amount of clarity at wide viewing angles. In fact, this particular AMOLED display doesn't seem to be plagued by any distortion from what we can see. Now, as much as the display suffices for most things, the resolution is still puzzling because other recent flagship announcements have at least quad-HD resolution.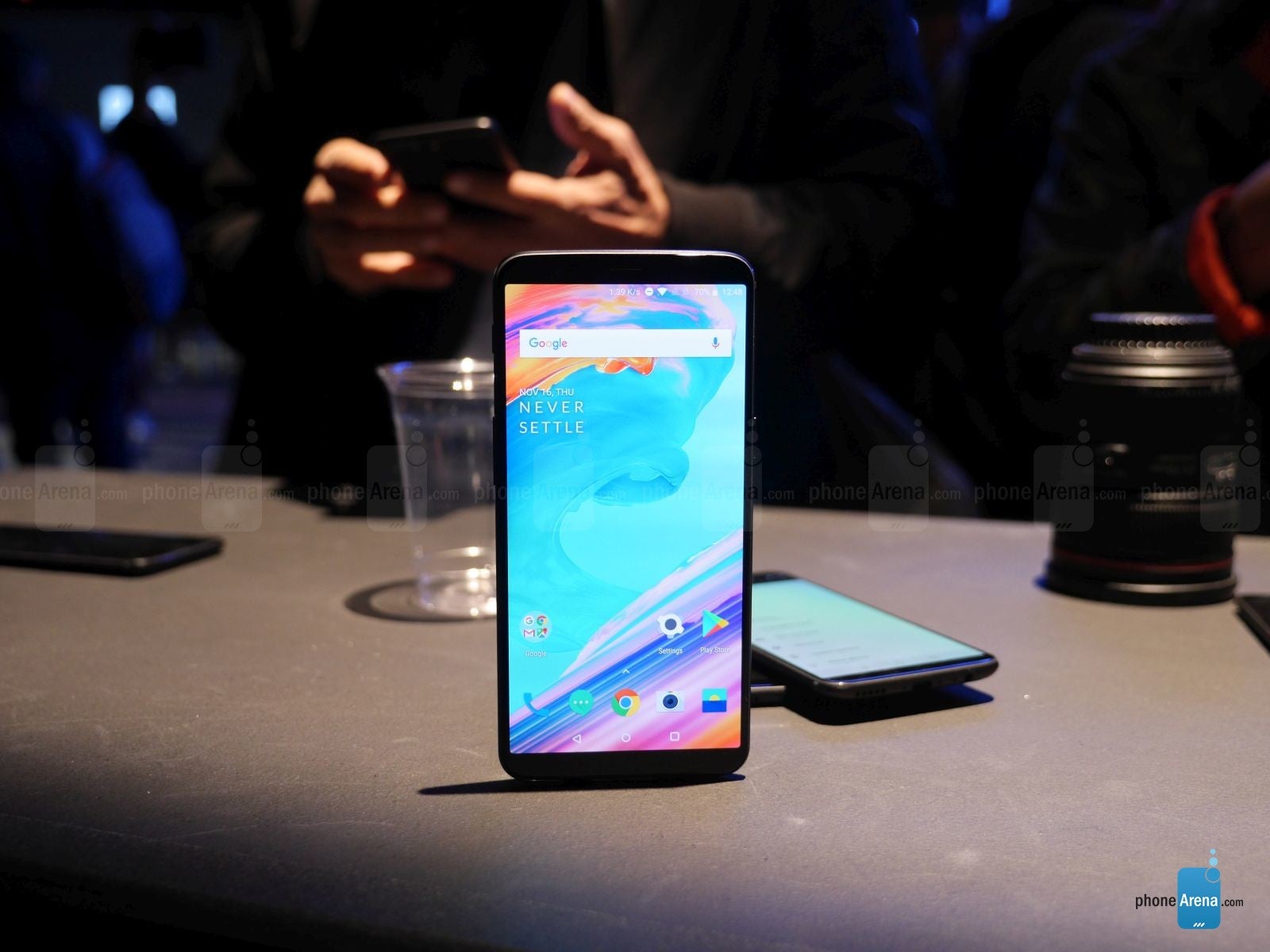 User Interface
The latest iteration of OnePlus' OxygenOS, which shockingly enough is running on top of Android 7.1.1 Nougat, features changes that have been suggested through Beta Program. Certainly minimalistic with its interface's layout, the customizations added here include things like "Parallel Apps." This "cloner" feature allows users to use the same apps, but with different accounts. Call it a mixture of work and play, you could run apps like Skype simultaneously with your personal and work accounts. We've seen this in other Android skins, but it's nonetheless a nice addition here to OxygenOS.
Additionally, the phone offers its own face unlocking implementation dubbed simply as "Face Unlock." As the name suggests, you just look at the phone to unlock it. We weren't told exactly what's the technology behind this new feature, but we presume it's nothing more than your typical facial recognition. Beyond that, many of OxygenOS' returning favorite features include reading mode, expanded screenshot, gaming do not disturb, auto night mode, and much more.
Even though the experience doesn't dramatically differ from other Android customizations, it's just a bit shocking that it's launching with Android 7.1.1 Nougat – rather than Oreo, much like its contemporaries.
Processor
Leveraging the power of the Qualcomm Snapdragon 835 chip yet again, the OnePlus 5T seems to perform in similar fashion to its sibling in the OnePlus 5 from a short few months ago. It's responsive needless to say, exhibiting a tight enough response that's on par to the other handful of phones released throughout the year with the same chipset. And when you combine that OxygenOS doesn't deviate dramatically from the look and feel of the platform, the phone runs effectively smooth. And the 6 GB of RAM should help keep several apps running in the background without having to refresh, but it's even crazier that the other model is packed with a whopping 8 GB of RAM!
In terms of storage options, you can choose either the 64GB option that's paired with 6 GB of RAM – or the 128 GB one with 8 GB of RAM. The storage options are sufficient to say the least, but it doesn't look like there's expansion via microSD.
Camera
Being one of the pioneers in the whole dual-camera craze, it's no surprise that the OnePlus 5T comes fashioned with another one. This time, however, they've swapped things out by packing a wide-angle main camera, but the secondary camera is actually one with the same 27mm field of view, but a higher 20MP resolution and the capability to combine 4 pixels into one in order to reduce noise in low-light pictures. Both these new cameras have a wide, f/1.7 aperture. OnePlus says that the phone will detect low-light situations and will switch to the secondary camera when it gets dark.
Of course, the purpose of the dual-cameras is to offer that cool portrait mode – wherein subjects remain sharp, while the background is blown out with that creamy bokeh effect. We snapped a few samples at the event, but it's tough to say how it compares to the competition. We did note, however, that there's no portrait mode with the front-facing camera. Still, we're eager to see how it performs under dimly lit situations, especially with its wide aperture.
The OnePlus 5T continues the line's legacy of featuring dual-cameras, but there's so much competition in the space right now – with nearly everyone offering the same portrait implementation. It's only a matter of time before we'll find out if it has what it takes to be a picture taking giant.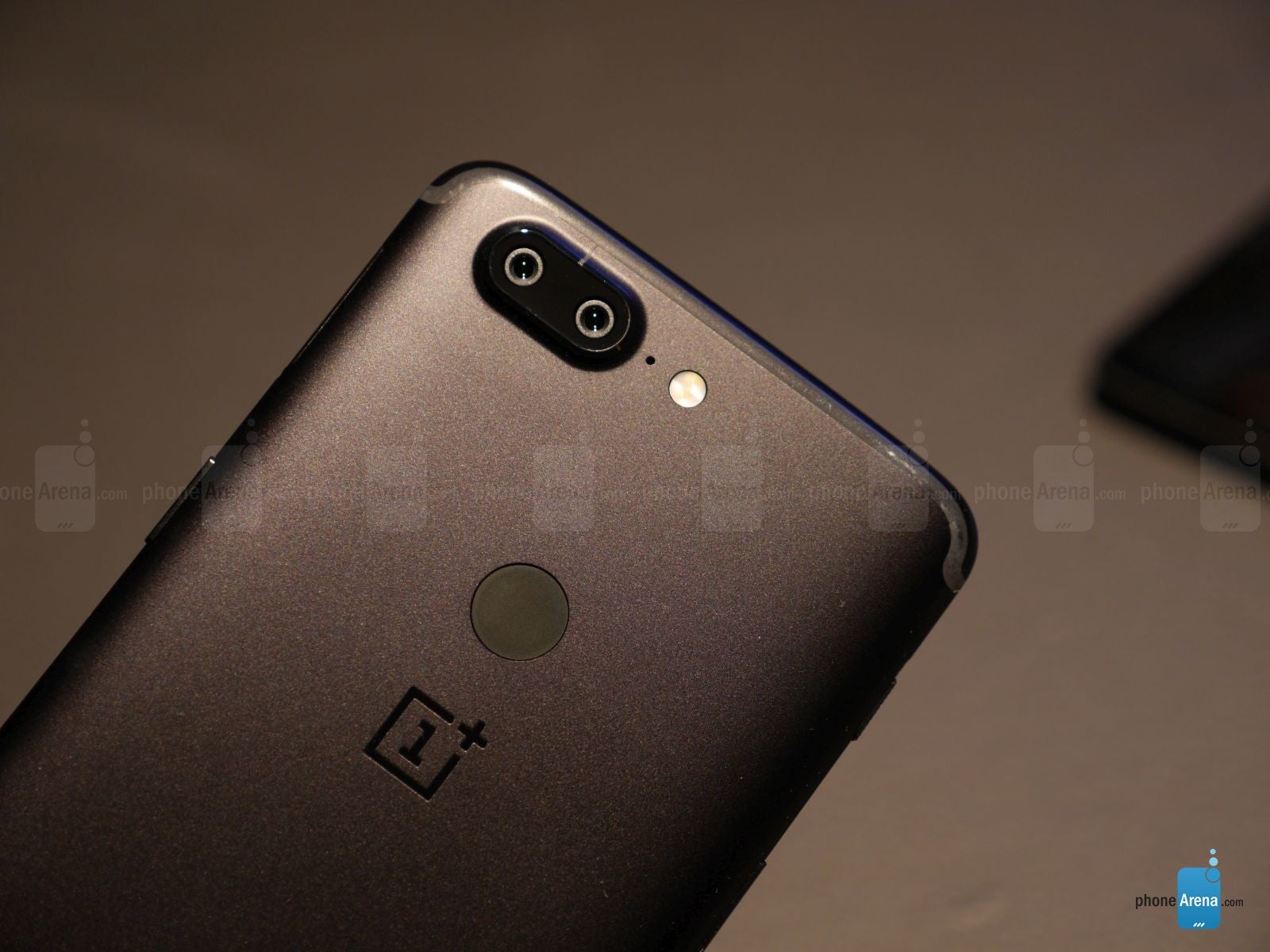 Battery
Even with its svelte chassis at 7.3mm thin, the OnePlus 5T is accompanied with a 3,300 mAh non-removeable battery. That capacity is in line to some of its main competitors, but as we've seen in other phones like the Huawei Mate 10 Pro, which houses a larger 4,000 mAh battery, the sub 3,500 mAh level seems to do nicely in lasting most of a day, but definitely not as long-lasting to get it into a second day.
Due to the metal construction, there's no wireless charging with this one. However, with its Dash Charging technology, it should recharge it in a relatively fast manner.
Expectations
What's incredible about the OnePlus 5T is its starting price of $500 for the base 64GB model! That's seriously being aggressive, given that the majority of the phones announced this fall have landed anywhere between $800 and upwards around $1100. At a fraction of the typical flagship price, the OnePlus 5T indicates to us that it's making a sharp, direct statement to its competitors. Sure, it's not perfect and might not have some of the other secondary features we find in other competing phone, but the price alone certainly justifies a lot of things about it. If it's able to perform fantastically in all the major areas, like camera performance and battery life to name a couple, it could seemingly be the flagship this year to offer the most bang for the buck.