OneHandWizard brings a Galaxy Note 5-like one-handed operation mode to the iPhone 6 Plus and 6S Plus
15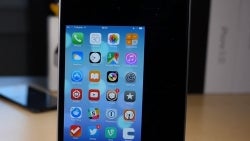 https://www.phonearena.com/Although the phablet form factor has gained a lot of popularity over the past few years, many users still avoid large-screened smartphones due to handleability concerns. The Apple iPhone 6 Plus and 6S Plus, with their 5.5-inch displays, are no different from any other phablets when it comes to one-handed maneuverability, and it's in this context that we'd like you to consider a new app for jailbroken iPhones that does a great deal to fix the issue.
As the display of a smartphone gets near the 5.5-inch mark, it becomes next to impossible for most people to reach all four corners of the screen using a single hand. In short usage bursts, this is bearable, but for heavy users, constantly stretching out to reach the top corners - or even across the width of the display - can become strenuous. Fortunately, there are a few software tricks that help alleviate this issue. Apple's "Reachability" mode offers a partial fix to the problem, but it turns out that some people actually prefer Samsung's way of dealing with one-handed operability.
Samsung came up with a very smart trick for its Galaxy Note series, and both the Galaxy Note 4 and this year's Note 5 come with a one-handed operation mode that basically scales down the entire display and places it near the bottom right or bottom right corner. By contrast, Apple's Reachability mode only lowers the top part of the screen but doesn't do anything regarding the width of the screen.
If you feel like the one-handed operation mode that Samsung implemented on the Galaxy Note series makes more sense on an iPhone, and you also happen to be the owner of a jailbroken iPhone, make sure to check out OneHandWizzard. The app is available in the Cydia store and can do much more than Apple's built-in reachability mode. OneHandWizzard is compatible with iPhone models as early as the iPhone 5 and iPhone 5c, although the app maximizes its utility on the 5.5-inch iPhone 6 Plus and iPhone 6S Plus models.
For example, the app supports both right and left-handed usage and the size of the scaled-down screen can be customized to match the size of the user's hand. Furthermore, OneHandWizzard also comes with shortcuts for other tasks that usually involve two hands, such as locking the screen, taking a screenshot, or adjusting the volume. Check out the screenshots below for a feel of the app:
source: OneHandWizzard