OnStar app for BlackBerry provides complete control of OnStar equipped vehicles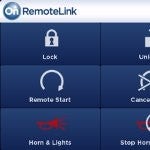 Do you happen to own an
OnStar enabled
Cadillac, Chevrolet, Buick, or GMC vehicle? And do you happen to own either the
BlackBerry Bold 9900 or 9930
? Well then, you're in luck because there a brand new app available to you that can give you full control of your vehicle right in the palm of your hands.
Available to download for free through the BlackBerry App World, Bold 9900 and 9930 owners can get situated with the brand spanking new
OnStar app from GM
. As one would surmise, the app enables for a host of functionality to OnStar equipped vehicles – such as the ability to magically lock/unlock your doors from anywhere in the world or turning on the vehicle remotely.
Indeed, there are going to be some people out there that will religiously use this app, since it offers a ton of convenience. And on top of that, it's simply a cool thing that you can show off to jealous friends. Naturally, you'll need to have a compatible BlackBerry with an active data connection and an OnStar paid service in order to use the app. At the moment, the app is available to download for the two aforementioned devices, but we're certain that more devices will be added to the list over time.
Unmatched control to:
NEW! Find a destination on your phone and send it directly to your OnStar Turn-by-Turn or In-Dash navigation system (OnStar Directions & Connections subscription required). Your directions will be downloaded and available upon vehicle start, and you are on your way.
Lock/unlock your doors from any distance
Start your vehicle remotely (based on vehicle capability)
Control your Chevrolet Volt charging and charge mode settings
Activate your Horn & Lights to help locate your vehicle
Contact an OnStar Advisor, Roadside Assistance or your Preferred Dealer
Unprecedented connectivity to:
View real-time fuel information, including fuel range, gallons of gas remaining and your lifetime MPG
View your Chevrolet Volt battery state of charge, electric range, electric miles and MPG
Check your current lifetime mileage
Check your remaining oil life
View your current tire pressure information
Access account information
source:
BlackBerry App World
via
CrackBerry