Nvidia Tegra K1 smokes the iPad Air and Snapdragon 800 in graphics benchmarks
50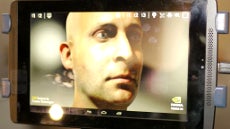 Nvidia dropped a bombshell announcement with its new
Tegra K1
chipset last week, as it ushered in the era of Cortex-A15 processors and Kepler graphics for mobile. The 192-core GPU is certainly its main selling point, and now we get the benchmarks to gauge exactly how much better it will be from anything else currently on the market.
As you can see in the GFXBench score table below, not only does it score 2.5x better in graphics performance than the current cream of the Qualcomm crop, Snapdragon 800, but it is also more than twice faster than the blazing A7 chip in the new
iPad Air
. In addition, it scores a tad higher than Intel's new HD4400 graphics subset that comes with the Haswell processor line, which is an amazing feat in itself, given that K1 will find itself in slim and light mobile devices soon.