Now that the Samsung Galaxy S 4 is official, which high-end smartphone would you buy?
99+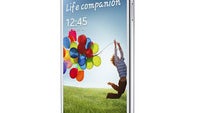 She's beautiful isn't she? Dressed in her polycarbonate outfit, she glows with charm and appeal, begging us to get our itchy hands on it. Of course, we're talking about the new
Samsung Galaxy S 4
smartphone, which just got announced officially. Although we're yet to give it a proper review, we're pretty content with what we've seen so far. Some of you are probably impressed as well, which comes as no surprise since the smartphone is powered by capable hardware and chock full of exciting features.
But the competition isn't fooling around. There's a number of high-end alternatives that the Samsung Galaxy S 4 will go against head to head, including the
HTC One
, which stands out with its outstanding build quality, and the dust- and water-resistant
Sony Xperia Z
. Of course, the
Apple iPhone 5
and
Nokia Lumia 920
shouldn't be forgotten either since they are worthy competitors to any high-end Android handset. So out of the smartphones that we just mentioned,which one you're most tempted to get, assuming you don't own one of them already? That's the question we're asking you in today's poll. Feel free to cast your vote below and join in the discussion down in the comments!