Nostalgia strikes: these were PhoneArena authors' first cell phones ever
34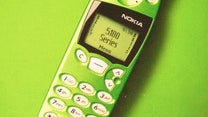 Quick question: do you remember the first cell phone you ever had? Do you remember how that felt like? Because we sure do.
For many of us, owning a cell phone for the first time was a milestone event. It was a step towards greater independence, kind of like buying your first bike or car. And today, we spent a few moments reminiscing those good ol' times. In the paragraphs below, we've shared our impressions and memories of the first cell phones we ever owned. Be ready for a trip back in time to the '90s and '00s, when cell phones were anything but smart, but highly desired nonetheless.
Nick T.: Alcatel OneTouch 511
The year was 2002. The typical phone of that era was large, boring, and usually had an antenna sticking out of it. The Alcatel OneTouch 511, however, was the exact opposite of this description and really stood out among its contemporaries. Owning it was an exciting experience not only because it was my first cellphone ever, but also because it was such an outstanding gadget.
I loved the 511 for its light weight and compact design, among other things. At 75 grams, it was the world's lightest phone at the time, and its small size allowed it to fit inside the watch pocket of my jeans. Cool, don't you think? The built-in games were really awesome, and I must have wasted many hours on beating every single level. And its battery lasted almost a week between charges. Except when I drained by playing games, that is. The navigation button, on the other hand, was absolutely horrendous. So were the polyphonic ringtones. They did sound cool and pleasant to the ear, that I can confirm. But at the same time, they were so weak that I could barely hear the phone when ringing inside my pocket.
Nevertheless, I liked my Alcatel OneTouch 511 and I treated it well. Probably not well enough, however, as I lost it in a clothing store less than two years after getting it. Too bad that back then, "find my phone" apps existed only in the realm of science fiction.
Maxwell R.: Motorola Dynasty Premier
The first mobile phone I bought and used for myself takes us all the way back to 1994. The phone was a Motorola Dynasty Premier (or variant thereof). It was distinct because it was just before the first Motorola StarTAC was released, and it was a candybar form factor, a departure from the DynaTAC flip phones Motorola was famous for at the time. I was living in the Connecticut at the time, and bought the device on contract with SNET Mobility (Southern New England Telephone, now part of AT&T). I don't remember how much I paid for the phone, but I remember the service plan included 30 minutes of voice calls for the low-low price of $40-$50 per month.

Everything was running AMPS at the time, D-AMPS was just coming into the picture, as was TDMA. GSM was an established standard, but had not made significant inroads in the US at the time. I liked the phone at the time for the convenience it offered, but there was little to like about it. It had terrible battery life, offering only about 30-60 minutes talk time, and it got really warm when you talked on the phone for more than a few minutes. Mobile networks were still a significant work in progress at the time, even in urban areas, there was always some amount of static during a call. If a call did not drop, that was something to remark about to other. The Motorola Dynasty Premier was my first cellphone, but I don't miss it.
Alan F.: LG Vx9800
The first phone that had an impact on me was the LG Vx9800. It had a clamshell form factor and a physical QWERTY keyboard inside. From the outside, it looked like a stand-alone camera and when opened it resembled a really small laptop. The WAP browser was really useful and the phone was extremely pocketable. LG eventually used the same form factor for the LG Envy and the LG Voyager. The latter was another phone I owned that I was truly fond of at the time.
Victor H.: Motorola C200
It's a long trip down memory lane to my first phone: the Motorola C200. But as for many others who bought their first phone in the early 2000s, it's impossible to forget that first touch with mobile telephony. While it wasn't necessarily a love affair, the C200 that I bought with my parents on a tight student budget was liberating. An avid phone enthusiast, amidst all the gaming magazines I'd been reading, I was following the nascent mobile phone industry with a lot of interest. The C200 was nothing like the best phones of the times – most of my friends were rocking Siemens phones with a much more convenient menus and nicer (polyphonic!) ringtones, while my C200 was a sad monochrome green affair with almost no functionality. Yet, it did allow me to text my crush, had the popular Snake game (and a way more entertaining logical game) and furthered my interest in what phones could do. Come to think about it, if someone then told me that – in just a few years – we'd have superphones with always-on Internet, brilliant displays and cameras that rival standalone shooters, I probably wouldn't have believed them.
John V.: Nokia 5110
My first cell phone was the Nokia 5110 back in 2001. I was still in college and tired of having to rely on calling cards, so being the poor college student, I thought it was time to finally buy my own cell phone. There wasn't anything grand about it, and in fact, I believe I ordered it on the phone with an AT&T rep – so I never got the chance to actually shop around for a phone. For me, it was just cool to call people without having to use a landline of some kind, so the convenience was appreciated. I recall being able to change the faceplate, which offered a little bit of personalization. After a year, though, it seemed dated compared to the slimmer looking phones coming out. I don't remember how much I paid for it, but I wouldn't be surprised if it were close to free.
Luis D.: Siemens M35
My first phone was the Siemens M35. Yes, once upon a time, Siemens used to make phones, and some of them actually looked pretty cool! The M35 certainly didn't, though. I got mine in 2000, and even then I thought it's a pretty ugly thing. You're more likely to see it on an office desk, rather than in the pocket of a prepubescent young lad. But I still have fond memories of playing Labyrinth and punching in ringtones note-for-note in the score editor. If you haven't made a phone sing a monophonic rendition of the X Files theme tune, you don't know life!
Paul K.: Sony Ericsson K510i
I've actually owned a couple of phones before this one, but they were so short-lived and uninspiring that I can't even remember the models. The Sony Ericsson K510i was an amazing little feature phone, though. For its time, it looked sleek, and oh boy – for the first time ever, I was able to load up custom .mp3's and 3rd party games on my phone!
In hindsight, its speaker was sub-par and its construction was so flimsy that I would sometimes take it apart while pulling it out of my pocket. However, I guess its internals were top-notch, since it survived for years. In fact, I still have it in some drawer – still functional, and waiting to be my emergency backup handset, should the situation require it.
Peter K.: Nokia 1100
Ah, the memories! My first phone ever was the Nokia 1100, a pretty basic 2003 feature phone that is currently holding the world record for the best-selling handset ever (~250 million units sold worldwide). It couldn't access the Internet, it didn't come with a camera, and it's most compelling features were Nokia's original Snake game, as well as the ringtone composer.
I loved that phone. It was sturdy, seemingly indestructible, and was totally reliable. I mostly used it for its basic functions – calls and texting. Of course, it was not as rad as the first color-display, MP3-playing handsets that came out shortly after I got it, but regardless, I quickly developed a liking for it. Not only because it was a gift from a person dear to me, but also because it was a simple and dependable piece of tech.