Nokia's first tablet (N1) launches in China for the equivalent of $257
21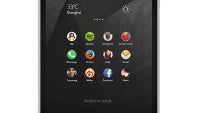 If you've been eyeing Nokia's first tablet – the N1 – and have contacts in China, you may want to consider asking nicely for them to get you one. The Foxconn-assembled, Nokia-designed tab has gone on sale in the Middle Kingdom and costs ¥1599 – or the equivalent of $257.
In case you missed out on the story, the Nokia N1 is a 7.9-inch slate with a resolution of 1536 x 2048 (a pixel density of 324), sporting a quad-core, 2.3GHz Intel Atom Z3580 – a 64-bit chipset – and 2GB of RAM. The first and only commercially-available Nokia slate also boasts an 8-megapixel rear camera (no LED flash), and a 5-megapixel selfie one. Powering this config is a 5,300 mAh juicer and a skinned version (with Nokia's Z launcher) of Android 5.0 Lollipop – and yes, that means you also get access to the Google Play Store, unlike with Nokia's X line of smartphones.
You might be wandering about the aforementioned Foxconn/Nokia arrangement, so here's how it works – Nokia is basically licensing its brand, but it also designed the tablet itself, while Foxconn is simply manufacturing it and will also be responsible for distribution and servicing. Foxconn is the gargantuan company that puts together a very, very large number of consumer electronics, including Apple's products. In other words, this tablet sure sounds like a great deal.