Nokia testing lab tour
26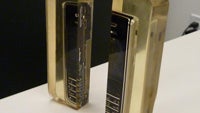 When we're out buying our smartphones, we don't necessarily think about all the background stuff that goes into the designing, developing, and testing that devices go through in order to make sure they live up to certain standards. Well, we had the opportunity of checking out one of Nokia's testing facilities where engineers and designers get to test out phones by placing them in a variety of real world scenarios to ensure they meet quality standards. In all honesty, it makes us really appreciate the kind of commitment that Nokia has when it comes to their devices, as they're evidently concerned on how their devices handle in the real world.
In our short time at Nokia's testing facility, which is located a little bit outside of San Diego, we're amazed to see first-hand on what happens behind the scenes when it comes to them testing out devices so they meet their standards. From various stress and physical tests, handsets are put through some rigorous processes to see what kind of limits they're able to withstand. Actually, it seems pretty interesting considering that phones are literally dropped and scratched to uncover their durability. Additionally, we're made aware about how various chemicals, such as those in French fry grease and sunscreen, can adversely affect a phone if they somehow come into contact with them.
Besides the usual physical endurance tests, we're amazed to find out how much investment is made in meticulously figuring out why some phones simply "go bad" for no apparent reason – like, as if they died inexplicably with no evidence of physical damage. In the case of some kind of manufacturer's defect, we're given a first-hand account on how engineers go about to solve problems related to manufacturing process that ultimately result with hardware failing.
In any event, check out the video below of our tour at Nokia's testing facility so you can experience for yourself all the stuff that goes behind the scene to make a fancy Nokia smartphone. You'll be impressed, like us, to see how dedicated Nokia really is with their portfolio.
Nokia testing lab tour: