Nokia showcases its array of iridescent accessories in its latest advertisement video
4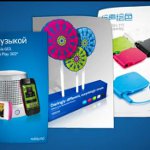 Normally, handsets tend to garner all the love from manufacturers, as they get plenty of face time on various advertisement spots – whether it be on video or a mere magazine spread. However, what's blatantly obvious is that
accessories
don't see the same level of love, considering they're simply perceived to be complementary items to devices.
Thankfully,
Nokia
is steering headstrong in giving some ample love to its lineup of accessories by centering its latest video advertisement around various accessories – both of which are compatible with Nokia and non-Nokia devices. From
NFC based accessories
to Bluetooth headsets, we get a very clear picture of how Nokia's accessories are becoming integrated more heavily into the lives of individuals. In fact, the video does a wonderful job in capturing the essence of its vast, yet iridescent looking accessories.
Simply, the video does a good job in keeping our attention on these cool looking accessories, and honestly, it makes the handsets appear to be the secondary stars of the show – and not the other way around. Who knows how many people actually use Nokia branded accessories, but after watching the video, it makes you want to go out and pick one up for yourself!
via
WMPoweruser