Nokia responds to claims of fraud, says "Nuh-uh!"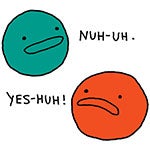 That didn't take too long – just hours after it was reportedthat Nokia is being sued by a group of investors for fraud over their exclusivemove to the Windows Phone platform, and look what has fallen into our mailbox; Nokia has sent out a press release that responds to the fraud allegations with a curt "no way".Their exact words are:
Nokia Corporation
Stock exchange release


May 4, 2012 at 16.50 (CET+1)




Espoo, Finland - Nokia has become aware of the filing of asecurities class action complaint naming Nokia Corporation as a defendant,filed in the US District Court for the Southern District of New York on May 3,2012. Nokia is reviewing the allegations contained in the complaint andbelieves that they are without merit. Nokia will defend itself against thecomplaint.
That's the entirety of their response, and it seems pretty straight forward. What's interestingabout this concise denial is that it was accompaniedby a 1,355 word "forward-looking statements" disclaimer, which is more thantwenty times as long as the body of their denial. Some choice quotes from theirdisclaimer are below:
It should be noted that certain statements herein that arenot historical facts are forward-looking statements, including, withoutlimitation, those regarding:

A) the expected plans and benefits of ourpartnership with Microsoft to bring together complementary assets and expertiseto form a global mobile ecosystem for smartphones
D) our ability to innovate, develop, execute andcommercialize new technologies, products and services

F) expectations and targets regarding our industry volumes,market share, prices, net sales and margins of our products and services
K) statements preceded by "believe,""expect," "anticipate," "foresee,""target," "estimate," "designed,""aim", "plans," "will" or similar expressions.

Thesestatements are based on management's best assumptions and beliefs in light ofthe information currently available to it. Because they involve risks anduncertainties, actual results may differ materially from the results that wecurrently expect.
Factors that could cause these differences include, but arenot limited to…

…our ability to make Nokia products with Windows Phone acompetitive choice for consumers, and together with Microsoft, our success inencouraging and supporting a competitive and profitable global ecosystem forWindows Phone smartphones that achieves sufficient scale, value andattractiveness to all market participants
…our ability to protect numerous patented standardized orproprietary technologies from third-party infringement or actions to invalidatethe intellectual property rights of these technologies
And it concludes (after another thousand or so words) with:
Nokia does not undertake any obligation to publicly updateor revise forward-looking statements, whether as a result of new information,future events or otherwise, except to the extent legally required.
There is nothing in there we would really disagree with, and most companies these days include some form of boilerplateto protect themselves in the event that their statements turn out not to betrue, but this has to be the longest and most specific CYA list we've seen in along time. Moreover, the only forward-looking statement in the original message isthat they intend to defend themselves against the complaint.

We'll let you make of that what you will, but it seems likea they were using a sledgehammer to crack the proverbial walnut here…unless they feel that past disclaimers wereinsufficient and they hope that this new and "improved" version can help formthe basis of their defense.