Nokia petitioned to fix apps and notifications problems on Asha Platform handsets
16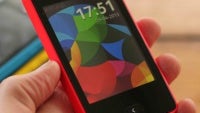 It lookslike Nokia's Asha Platform handsets (starting with the Asha 501) haven't beenholding up very well since their 2013 launch. A disgruntled Nokia Asha owner has resorted to a petition to bring some very frustrating experiences withthe popular "borderline smartphones" to Nokia's attention.
While thecompany doesn't seem to be responsive to user complaints (there wouldn't havebeen a petition otherwise), the list of complaints is extensive. It begins withthe simple fact that the pre-installed Facebook app won't even work out of thebox - the user needs to install a Nokia-authorized version. After the fact,Facebook works, but push notifications are nowhere to be seen - they justaren't there. Sadly, it's not just Facebook - every app with PushNotifications, including Twitter and WhatsApp, don't deliver notifications ontime, or at all.
Other users complain aboutthe Nokia browser not working. It merely opens a blank page with no option toenter an URL. Users have to slide to a drop down meny, go to Google, and entertheir web adresses from there. Another user restarted a Nokia 501 and somehowended up with no browser whatsoever. And frankly, the Xpress Browser isn'tavailable in the Asha Store. Well, at least there's Opera Mini.
If thesecomplaints don't seem as serious as to justify raising a petition, it must beconsidered that all the aforementioned apps are advertised as bundled with theAsha smartphones. Therefore, they are expected to operate properly in theirentirety. Considering the Asha Platform handsets are entry-level mobiles thatcannot do much outside of calls, nostalgic java games, browsing, and socialnetworking, it appears that at least half of their functionality is compromisedin different ways.
source:Nokia Discussions ,Petition