Nokia adds math homework to mobile devices, boosting S. African test scores
1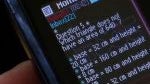 Cell phones aren't known for contributing to the educational experience. Actually, they're usually known for distracting students both at home, and during class hours. But Nokia is pioneering a new program to make cell phones complementary staples of childrens' education.
In South Africa, they have integrated math homework with students' cell phones, and thereby boosted math scores by 14%. "We wanted to approach
children
with their own terms and with their own technologies...we wanted to embed the learning into their everyday life," explains Riitta Vanska of Nokia Sustainability Operations.
In 2008, the South African Vice President asked Nokia for a proof of concept to make cell phones into educational tools for their students. Now, students can use a chat client, called MXit, to receive and respond to math questions. Beyond the more youth-friendly interface, the chat medium can also give students instant feedback on their responses.
MXit is an incredibly popular chat client in South Africa. Because all the children regularly interact with the client, the mathematics tutorials are made more appealing than a stodgy textbook. We'd like to see these kind of solutions integrated with Facebook, Twitter, etc.
source:
s60betalabs (YouTube)
via
IntoMobile