Nokia Lumia 800 takes top sales spot in France, Samsung Wave #2
25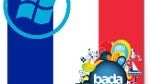 The Phone House is the name outside of the UK and Ireland of mobile phone mega-retailer Carphone Warehouse, and as such, is one of the largest cell phone retailers in the world. The new top 50 list from the Phone House France site has some interesting new devices at the top: the Nokia Lumia 800 and the Samsung Wave 575.
Of course, this is just the sales for one week at the mega-retailer in France, but this is still pretty crazy to see especially just a couple weeks after the launch of the iPhone 4S, which actually came in way down at number 5 on the list. So, the top spot went to the Windows Phone Mango flagship phone, the Nokia Lumia 800, followed by the bada Samsung Wave 575, the Sony Ericsson X10 Mini Pro, Samsung Galaxy S II, and the iPhone 4S make up the top 5 on the list.
Of course, it should also be pointed out that each color and carrier for each device is split up on the list, so the Lumia 800 came in #1, and #9, while the iPhone 4S came in #5, #8, #11, #13, #15, #37, #39, and #46. So, it's likely that once you add it all up, Apple likely had more sales combined. Still, it's nice to see WP7 and bada getting some adoption. We're sure that if Peter were still with us, he'd be very proud right now.
source:
The Phone House France
via
Windows Phone Central