Nokia Belle Feature Pack 2 caught on video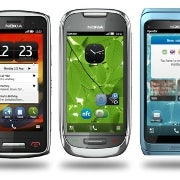 If you are holding on to a contemporary Symbian smartphone, you might want to check out this video that was posted on YouTube a few days ago. It is a
sneak preview of Nokia Belle Feature Pack 2
, which a developer with access to Nokia's Remote Device Access service (RDA for short) was kind enough to share with the world.
In the video, we see Nokia Belle FP2 running on an emulator, not on an actual device, but that's good enough to get a general idea as to what new features the update will bring. To start, unlocking the screen with a swiping gesture will be possible. The camera user interface will be given a few tweaks, and the audio player will be accessible from the notifications bar when music is playing. Typing text will be made easier with predictive input and intelligent auto-complete function. Expect seeing a better web browser as well.
Note that these are just some of the improvements that Nokia Belle FP2 is expected to introduce. The entire list of changes, however, will likely be out once the update is released.