Nokia 8800 to be upgraded ?
0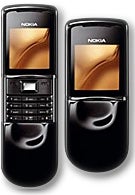 The Nokia 8800SE is an upgrade to the 8800 released last year. The new handset has the same stainless steel design and slider form factor. The major upgrade is the 2 megapixel camera that will replace the 8800's SVGA one, while design-wise there will also be some differences. The keypad looks a little changed and the navigation key is different. The 8800SE also sports a slight facelift as it looks like the surface of the phone is glossy and the keypad cover features a slightly lowered oval form which we guess is designed in order to make it feel more solid in the hand.


Recently the FCC approved the Nokia 8800d which is a tri-band (900/1800/1900 MHz) GSM phone but it's still not clear whether it's the same device.
Source:
Slashphone
Update (Aug 09, 2006)
: It turns out that the SE stands for Sirocco Edition and the phone has the same specs as the 8800, with just a little facelift, and it looks like the camera is still a SVGA one - not 2 megapixels.
Source:
EngadgetMobile