No Skype for the Palm Pre for now
0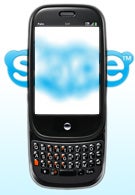 It looks like
Palm Pre
users will have to wait some more before
Skype
application gets released for their smartphones. The thing is, in this case "some" might mean quite long, since Skype development team has announced it is not currently working on a webOS-compatible app, informs GigaOM. Here is the provided official statement on the matter:
"We are focused on delivering the best Skype experience for mobile consumers that we can, across any cell phone or mobile operating system. If someone has a cell phone, we want them to be able to use Skype on it. That's our vision and we've already delivered new mobile applications for Windows Mobile, Java-enabled cell phones, Android-powered devices and the iPhone in the first half of 2009. As things are evolving quickly in this space, we will continue to keep our eye on Palm's Pre and webOS platform, which seems to be getting good traction in its first weekend. But we have nothing to announce at this time."
So, as it seems, whether or not and when a Skype app will be developed for the Pre and future webOS phones is a question without an answer at the moment.
Palm Pre Specifications
|
Hands-on
source:
GigaOM