Nine new Samsung phones to be announced at the MWC
3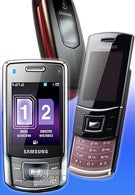 With the biggest European expo for cell phones coming in a few days, more and more pieces of information about new upcoming phones become unveiled. As you know, Samsung is one of the most productive manufacturers, which is the reason why it is now rumored that it will announce nine new phones, which will be introduced at the MWC this month.
Firstly, it looks like the dual-SIM trend is reasonably becoming more and more popular. With the recently appeared B5702, it's very possible that Samsung will establish itself as the leader in this market segment. The device looks really nice, incorporating the slider form-factor. But the dual-SIM mania doesn't end here. There's yet another device, namely the C5212, which will also take advantage of the technology. In contrast to the B5702, this one is a candybar, which will offer a 2.2-inch TFT display and a 1.3MP camera.
Okay, let's leave the dual-SIM trend aside for a moment and concentrate on the Samsung S5050, which will be a mid-end slider, offering a 2.2-inch OLED display, a 3.2MP camera with LED flash and a microSD card slot for up to 8 GB of memory.
Next on the list comes the slim candybar, S3310. It'll feature a TFT display with support for 16 million colors, 2MP camera and a microSD card slot for up to 8 GB of memory.
For the fans of the simple, yet very compact phones, capable of global roaming, Samsung will offer the E2210, which will pack some modest features, fit in a really good-looking clamshell body.
Coming up next is the Samsung E1360, which is a dual-band GSM slider, featuring a CSTN display with a typical budget resolution of 128x160 pixels and an FM radio.
In the end, Samsung has prepared three budget dual-band candybars: the E1210, the E1125 and the E1100. The first one will show off a high-capacity 1000 mAh battery, and the other two will share the same specifications: a CSTN display with a resolution of 128x128 pixels with 65 million colors and an FM radio.
source:
Unwired View
, more