Nikon Coolpix S800c is now official – 16MP Android camera you can play Angry Birds on
19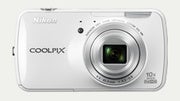 As predicted,
the Nikon Coolpix S800c Android-powered camera
was officially announced today. What we have on our hands is a 16-megapixel point-and-shoot cam boasting a 1/2.3 CMOS sensor with back-side illumination, 10x optical zoom, and image stabilization. Videos can be taken at 1080p, and the WPS technology allows files to be easily transferred over Wi-Fi to a smartphone or a tablet.
In case you are wondering, you cannot use the Nikon S800c as a cell phone, although we bet that the photos that it takes look better than what most smartphones can deliver. On the other hand, you can access the Google Play store in order to install applications – social networking clients, photo editing software, even Skype makes an appearance in the promotional video below. We know that the camera's OLED screen measures 3.5 inches in diagonal and has "high resolution", but further hardware specifications, such as processor make and model, remain unknown. Android 2.3 Gingerbread is what comes out of the box.
The Nikon Coolpix S800c has 680MB available for applications and about 1.7GB for storage, which can be expanded further with the use of an SD/SDHC card. The unit tips the scales at 184 grams and has a thickness of about 27 millimeters without taking the protruding optics into account. As far as battery life is concerned, don't set your hopes too high. The camera can take about 140 images with a single charge of the battery, according to official specification, which, quite frankly, isn't much.
And that's pretty much what the Nikon Coolpix S800c is. Like it or not, it is arriving to the U.S. this month for $350 and will be available in both black and white. Is anyone interested in grabbing one?
UPDATE:
Using the Nikon Coolpix S800c will not require users to keep the unit on stand-by all the time, or to wait until Android boots up. The camera can be used as soon as the camera is powered on, while the operating system loads in the background. The Android user interface becomes accessible in about 30 seconds, and when put on stand-by, the device automatically shuts itself down.
GREAT IMAGES ARE NOW TRENDING: WITH WI-FI® CONNECTIVITY AND A POWERFUL ANDROID™ PLATFORM, THE NEW NIKON COOLPIX S800c IS THE EASY WAY TO INSTANTLY CAPTURE, CREATE AND SHARE
The New COOLPIX S800c Enhances the User's Connected Life, Letting Them Instantly Share Great Images From a Device That Includes Features Only a Camera Can Provide with the Ease and Versatility of a Smartphone or Tablet
MELVILLE, N.Y. (August 22, 2012) – Today, Nikon Inc. announced the innovative COOLPIX S800c, Nikon's first Wi-Fi compact digital camera to incorporate Nikon's powerful camera imaging technologies and the boundless capabilities of an Android Operating System (OS). Designed for the always connected individual, the S800c delivers the high picture quality and superior performance expected from a Nikon camera coupled with communication functions and app-based versatility of a smartphone or tablet.
The new S800c answers the call for users who need the ability to capture photos and HD video with amazing clarity and color, yet offers a familiar portal to connect to social networks and popular imaging applications through an Android Operating System. With the introduction of the S800c, beautiful images can now be confidently and quickly shared with friends and family.
"With the new COOLPIX S800c, Nikon designed a camera for users looking to capture stunning images and videos with a compact digital camera but also want to share their content with their friends and family in a familiar way," said Bo Kajiwara, Vice President of Marketing, Planning and Customer Experience, Nikon Inc. "Now users can connect easily and instantly with their social networks through the wireless connection, and take advantage of the vast possibilities of the Android Operating System. The new S800c is truly the easiest way to share amazing images on the spot."
Powerful Images Are What Connects Us
What sets the S800c apart from connected devices is the focus on the quality of images that people can share. Features such as the spectacular 10x NIKKOR zoom lens and the 16-megapixel CMOS sensor affords the ability to create photos and HD video with unrivaled sharpness and clarity, whether up-close or at a distance, even in challenging lighting conditions. The S800c helps users to create images they will be proud to share, while offering connectivity and additional benefits to users, including:
• Optical 10x Zoom NIKKOR Lens: covering from wide-angle 25-250mm, so either the largest group or action from afar is captured with clarity that can only be accomplished with a quality lens. Additionally, the lens is bolstered with Nikon's VR optical image stabilization for blur-free photos and stable HD video, even while handheld.
• 16 Megapixel Backside Illuminated (BSI) CMOS Sensor: Much larger than the CCD sensor traditionally found in smartphones or tablets, this BSI CMOS sensor excels in challenging lighting conditions, and provides images with vivid colors, low noise and exceptional contrast and sharpness.
• Powered by Android: The camera's connection features allow users to seamlessly connect, browse and upload to their social networks, including Google+™, Facebook and Twitter. Users can also take advantage of the full functionality of Android technology to surf the web or even download applications and games onto their S800c. Just like a smartphone or tablet device, the camera has the opportunity to run camera-specific photo and video applications, yet enables the various benefits of shooting with a real camera.
• Google Play™: The S800c provides access to a vast world of applications for games, productivity and personal communication/ email, including Nikon's photo storage and sharing site, my Picturetown®. Users are also able to watch video downloaded from Google Play right on their camera.
• The Benefits of COOLPIX Camera Technology: With the EXPEED C2 processing engine, users will enjoy rapid response and speedy performance from their device. Additional benefits include the ability to use a camera flash to illuminate subjects, while continuous drive mode captures up to approximately 8 frames-per-second (up to three shots) to help ensure no moment will be missed. What's more, a variety of scene modes and creative filters keep it fresh and let the user easily create stunning images.
• Full HD Video: The S800c makes it easy to capture Full HD 1080p HD video with amazing fidelity and sharpness, with full stereo sound. Video clips can be instantly uploaded to popular video sites such as YouTube™ and Vimeo®.
• Built in GPS: Ever wanted to track a weekend excursion or geo-tag a hard to find shooting spot? The GPS function enables recording of shooting location information on stills and movies.
Easy Settings, Easy Connection, Instant Gratification
Smartphone and tablet users will feel at home with the S800c's familiar controls and operation, and will be able to easily navigate using the wide and bright 3.5-inch touchscreen OLED monitor. The camera will connect to the internet via granted access to any Wi-Fi network. Upon connection, the user will be prompted through an easy-to-understand set-up process, similar to that of other Android devices. The COOLPIX S800c also has the ability to connect through WPS for a fast and secure push-button connection. Additionally, when a Wi-Fi connection is not open or available, the camera can transmit images and videos wirelessly to a smartphone or tablet, allowing the user to share better images through a mobile network.
COOLPIX core technologies also make it easy for users to create share-worthy images. Various camera modes help the user achieve the greatest shot, whether it's a macro shot of tonight's cuisine or a scenic HDR shot of downtown, the image is instantly ready to share. For maximum creativity, the S800c has 18 filter effects, including the new Toy Camera effect, Pop and Super Vivid color filters, as well as Cross Process and Peripheral Darkening filters.
Price and Availability
The S800c will be available in September 2012 in both White and Black for a suggested retail price (SRP) of $349.95*. For more information about this COOLPIX camera, or other Nikon products, please visit www.nikonusa.com.
Recommended Stories