Next iPhone to feature a 4.6" Retina Display, Apple still mulling its LTE radio pick
44
The astronomical spring arrived and brought with it the next iPhone rumor season. The Korean Maeli Business Newspaper, which on first read is brimful of news about Samsung and LG, of course, dropped a bombshell statement today, claiming that Apple has already picked a screen panel for the 2012 iPhone, and it is a 4.6" Retina Display LCD.
Apple will allegedly keep its golden ratio and the screen will be longer and narrower, allowing for easier one hand operation, like with Sony's
Xperia arc
and
Xperia S
handsets. Still, it is a big departure from the current 3.5-incher, so we are taking this report with the salt shaker until proven wrong.
The paper says domestic suppliers have already received orders for it, and those can only be Samsung and LG, which are supplying the current Retina Display. The report even goes as far as calculating that the new screen will be $3 more expensive for Apple than the old one. Moreover, it even says that
the new Galaxy S III will sport the same screen size
, as far as we understood from the corky Google translation.
Meanwhile, Barclays Bank analysts say that
Apple is actively testing an LTE radio chip to go into its next phone
. This suggests that the Qualcomm chip in the new iPad might not be the only candidate. The Barclays report says Qualcomm MDM9615 is on the table, since it supports both voice and data over LTE, and supports multiple frequencies, unlike the new iPad, which has dedicated versions for Verizon and AT&T's LTE, for example.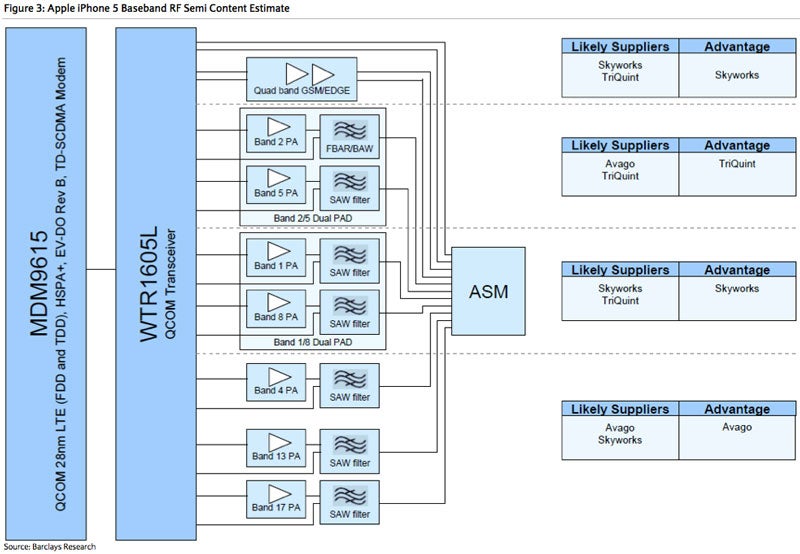 From the other connectivity component makers Apple is considering, Barclays says Skyworks Solutions is most likely to be picked, and the sixth generation iPhone is about to be announced in September. The Korean newspaper that broke the news of an eventual 4.6" display for it only says the new iPhone will launch "in the summer", and if they mean Q3, the stars are already aligning for September indeed.