Newt Gingrinch wants your help in renaming smartphones
25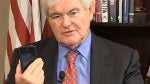 Here's the story: Newt Gingrich has just noticed that the word "cellphone" doesn't adequately fit the products that we currently call "smartphones". It's confusing, we know. The problem is that in the entire video where Newt is asking the public to submit new names for smartphones, he never actually uses the term. He is clearly holding a smartphone (an iPhone 5 by the looks of it), but he refuses to acknowledge that a new word has come about to replace the term "cellphone".
We are very torn about this story. On one hand, we don't really want to give credibility to Newt Gingrich as he attempts to cling to relevance, especially since there is no reason why he should be at the forefront of any technological issue (just look at the ridiculously large lapel microphone he's using in the video), even a semantic one. But on the other hand, we have a history of arguing semantics; and in fact, we have asked a very similar question about what the
name of a smartphone will be in the future
.
Of course, things don't usually get their names because one person asks the public for a new name. Names arise organically, evolving from past names, the convergence of various languages, and the changing use/function of the product.
Gingrich has a good point that the potential use of a smartphone goes far, far beyond what the term implies, but that doesn't exactly mean it needs a new name
. Every point he makes applies to computers as well, but we still use the term computer. We've just enhanced the scope of the word from its humble roots meaning "calculating machine".
What do you guys think? Do we need a new word for smartphones? If so, what would you want the name to be?