New versions of Opera's mobile browsers are released - please welcome Opera Mini 6 and Opera Mobile 11
1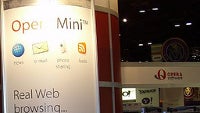 When we think of CTIA, we usually envisage some really powerful devices we will be quite happy to play with, but the software side of all things mobile is just as important. That's why it's our pleasure to inform you that earlier today Opera released new versions for its mobile browsers - please welcome Opera Mini 6 and Opera Mobile 11.
Opera claims it was working hard to improve its Mini 6 and Mobile 11 browsers, putting special emphasis on scrolling, panning, zooming and the pinch-to-zoom feature. Moreover, it has added a social media sharing button for all these heavy users of social networks.
Opera Mini is known for its compressing capabilities, and the company claims the new Mini 6 version compresses webpages to one tenth of their original size, while Opera Mobile 11 offers HTML5-based browsing and the Presto engine we know from Opera's desktop PC browser.
Opera Mini 6 is available for Symbian S60 phones, Android, BlackBerry and J2ME, while Opera Mobile 11 supports Android, Symbian S60, MeeGo and Maemo. Both browsers are available for phones and tablets.
source:
Opera