New update for the Samsung OMNIA HD brings 3D multitasking
This article contains unofficial information.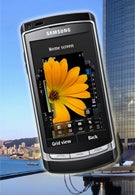 Samsung´s
developer team keeps toiling away on the Symbian-based top smartphone of the company and goes on throwing new features and extras into the deal. Frankly, the 3D multitasking (like on the
Samsung Omnia II
) got showcased in the commercials that showered us prior to the release of the OMNIA HD, but it wasn´t until now that its owners are able to relish the eye-catchy feature. The XEII1 update that also brings along several other improvements is now available to users in Hong Kong and Russia. The list of all novelties includes the uTalk widget and a rehaul of the existing ones as requested by Samsung Russia. The screen QWERTY has also been changed and now there´s enough space between keys. Several bugs have been fixed as well, like the issue affecting the phone browser or the one that causes the handset to freeze during playback of certain Xvid files.