New iPhone display part images leak out
46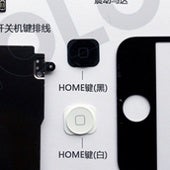 The iPhone rumor mill is at full spin and now it churns out more pictures, allegedly of the iPhone 5 display and protective glass, sensors with their connectors and buttons. The original source from the images is iColorOS, and though they do look authentic for a rumor, we should note that the site is now down.
What the pictures below show is a 4-inch iPhone, just like all the other rumors before, but this tiem it's not assembled, but rather shown in pieces. What's new here is the protective display backing on the bottom left of both pictures. The new iPhone is said to feature a new, thinner display with in-cell technology.
Just recently, we saw leaked pictures showing a nano-SIM tray that will allegedly be used in the iPhone. The nano-SIM standard was officially approved as the fourth standard by the European Telecommunications Standards Institute in June.
Check out the images if you can't wait, but for those a bit more patient - it's only around a month until September 12th when the new iPhone is expected to get unveiled.
source:
iColorOS
via
Nowhereelse.fr
,
AppleInsider