New iPad charges just the way it should, clarifies Apple
35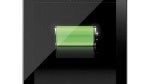 Criticisms revolving around the
battery inside of the new iPad
are not in short supply. According to one of them, the
iPad battery meter does not give accurate readings
. In particular, when the battery indicator shows that the battery has been 100% recharged, it reportedly takes about one more hour of further charging to reach its full capacity.
However, Apple has addressed these concerns with a statement and claims that the new
iPad
follows the same charging principle that has been present in previous iPad models.
"That circuitry is designed so you can keep your device plugged in as long as you would like,"
Apple VP Michael Tchao told
AllThingsD
today.
"It's a great feature that's always been in iOS."
Basically, when your iDevice is charging, the circuitry allows it to start discharging once the battery reaches its full capacity. Once the battery level reaches about 95% or so, the charging process continues. That is done because it is not a good thing having a battery charged to the maximum for prolonged periods of time as it may reduce its lifespan. In the meantime, however, a user will see a full battery meter, and that is because if it did run between 95% and 100% all the time, that would likely confuse the less tech savvy users. Batteries in most modern laptops, smartphones, and media players most likely follow a similar charging pattern.
So there you have it, folks. There is nothing wrong with your iPad's battery, and if you really must have those extra few percent of juice, just get used to keeping your tablet plugged in after the meter has maxed out.