New commercial for BlackBerry Q10 focuses on gestures, tells U.S. television audiences that "It's time"
8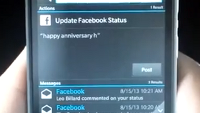 "It's time," says the voice-over announcer right at the start of the latest television ad for the
BlackBerry Q10
. The ad for the QWERTY equipped BlackBerry 10 model is aimed at U.S. audiences where the Canadian OEM has seen its market share
dry up faster than a wet bikini under the Florida sun
. BlackBerry hopes to keep loyal 'Berry users with the usual high-quality physical BlackBerry QWERTY keyboard on the phone, while
winning back traitors
that had a momentary spasm and switched to Android or iOS.
You might recall that 1300 people were polled during the BlackBerry Live conference in Orlando during May. 76% of those questioned said that the
Q10 is a strong enough phone to keep them from leaving the platform
and straying from home. And for those who wear the scarlet "B" because they wandered from their prior BlackBerry device to iOS or Android, 64% said the Q10 is tempting them to return to the fold.
The new BlackBerry Q10 ad for the states points out some of the features on the phone, such as the ability to change the status on your Facebook page without opening the Facebook app. Using the gesture based navigation that is a hallmark of BlackBerry 10, the spot shows how fast it is to browse and share. We're not sure if a quick look at these features is enough to win over converts to the Q10. It's just a thought, but considering that the QWERTY is the
big differentiating feature
of this phone, we'd find real life users of the phone who love the BlackBerry keyboard and throw them in front of a camera. Now that would be a message that America would listen to.
source:
YouTube
via
BerryReview