New Google logo found in Chrome beta APK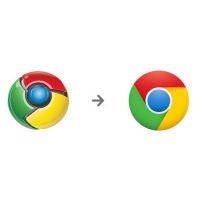 Google has been slowly redesigning the logos for each of its products. Google had been a big fan of pseudo-3D with shadows and light reflections and such, but it has been pushing towards a flatter, more minimalist design for the past couple of years. One of the first major changes was the Chrome logo, and now Google is changing its signature logo just a bit.
According to a source for The Verge, the redesign was made for the times when "the beveled logo may not display well — such as on printed banners or other corporate use cases." In fact, the redesigned logo has already been pulled from the Chrome Beta APK. So, even though we liked the redesign, it looks like it won't be replacing the current design in the near future.