New BlackBerries arriving soon on AT&T: Bold 9900, Torch 9860 come on Nov 6th, Curve 9360 – Nov 20th
7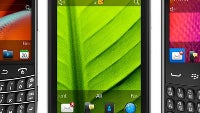 Waiting for those new BlackBerries arriving on AT&T? After they've arrived on Verizon, Sprint and T-Mobile, the wait will soon be over for AT&T as well. The nation's second-biggest carrier will get three new BlackBerries riding its 4G HSPA+ network:
The classical Bold 9900 is arriving this Sunday carrying a price tag of $199.99 when purchased with a two-year contract agreement. The screen-centric Torch 9860 is even more affordable and is getting released on the same date. Finally, the Curve 9360 is the last one to arrive and the most affordable one as well – at just $29.99.
All of the models come with
BlackBerry 7
, but could the upcoming BBX operating system make you want to wait a bit longer? Don't hesitate to let us know in the comments below.
BlackBerry Bold 9900 and All-Touch BlackBerry Torch 9860 Smartphones Arrive for AT&T Customers on Nov. 6
New 3G BlackBerry Curve 9360 Hits Store Shelves Nov. 20
DALLAS, Nov. 1, 2011 /PRNewswire/ --
Key Facts
AT&T* today announced the price and availability of the BlackBerry® Bold™ 9900, the all-touch BlackBerry® Torch™ 9860 and the BlackBerry® Curve™ 9360.
AT&T delivers the broadest portfolio of the latest 4G BlackBerry smartphones, including three models – the BlackBerry Bold 9900, the all-touch BlackBerry Torch 9860, and the previously-released 4G BlackBerry Torch 9810. On AT&T's 4G network, the three 4G smartphones are capable of speeds up to nearly four times the network speed capability of previous models.
AT&T delivers the broadest portfolio of BlackBerry smartphones at the best prices, ranging from $29 to $199, so customers can choose the best form factor for their needs at a great price.
BlackBerry Portfolio from AT&T
AT&T delivers the broadest portfolio of BlackBerry® 7 -based smartphones, including three 4G models – the Bold 9900, the all-touch Torch 9860, and the previously-released Torch 9810, the first 4G BlackBerry smartphone from AT&T. All 3 4G smartphones take advantage of AT&T's 4G HSPA+ network to deliver network speeds nearly up to four times faster than most previous 3G BlackBerry smartphones. In addition to the three 4G options, AT&T is also releasing the new BlackBerry Curve 9360 smartphone, which is a significant upgrade of the Curve series, and a great option for messaging-intensive and socially active consumers and business users.
All the new BlackBerry smartphones from AT&T support multitasking, so customers can send and receive messages or browse the web while on a telephone call on AT&T's mobile broadband network. They also follow global roaming standards so customers are able to enjoy international voice roaming in more than 220 countries and data roaming in more than 205 countries.
The complete portfolio allows customers to choose the best BlackBerry smartphone for their needs – whether it's the premium touch QWERTY Bold 9900, the touch/ slider QWERTY Torch 9810, the all-touch Torch 9860, or the classic QWERTY Curve 9360. AT&T offers excellent pricing across the full portfolio so customers can choose the right BlackBerry form factor at the right price.
Full Suite of BlackBerry 7 Smartphones
Each of the new BlackBerry smartphones features BlackBerry 7 OS, a powerful evolution of the BlackBerry software. BlackBerry 7 OS delivers speed, efficiency and UI enhancements, and introduces a next-generation BlackBerry browser with a significantly faster, more fluid web browsing experience.
BlackBerry 7 OS also includes the premium version of Documents To Go free of charge, BlackBerry® Balance to allow customers to fully experience work and personal features without compromising the IT department's need for advanced security features, as well as voice-activated universal search, among other features.
BlackBerry Bold 9900
The new, premium BlackBerry Bold 9900 smartphone is distinguished by its iconic Bold design and delivers best-in-class productivity for people who want the industry's leading full QWERTY keyboard while enjoying the convenience of a touch screen. The thinnest BlackBerry smartphone ever at just 10.5 mm, the BlackBerry Bold 9900 boasts 4G speeds, a brilliant 2.8-inch touch screen, 1.2 GHz processor, Liquid Graphics™ technology, which delivers a highly responsive touch interface with incredibly fast and smooth graphics, 768 MB RAM, 8GB of onboard memory (that you can expand to a total of 40 GB with a 32 GB media card), HD video recording and dual-band Wi-Fi®.
BlackBerry Torch 9860
The BlackBerry Torch 9860 smartphone is AT&T's first all-touch BlackBerry smartphone and delivers the largest screen on any BlackBerry. The 3.7-inch display makes your photos, videos, games and apps come to life in incredible detail for a rich multimedia experience. Similar to the BlackBerry Bold 9900, the all-touch Torch BlackBerry smartphone also boasts 4G speeds, a 1.2 GHz processor, Liquid Graphics technology, 768 MB RAM, and HD video recording.
BlackBerry Curve 9360
The new BlackBerry Curve 9360 smartphone is slim, stylish and ergonomically designed with a comfortable keyboard for fast, accurate typing and an optical trackpad for easy, one-handed navigation. The BlackBerry Curve 9360 features a 2.44-inch hi-resolution display and includes a 5MP camera with flash and video recording so that memories can be captured and instantly shared on social networks. Customers will welcome the increased productivity and enhanced user experience delivered by the faster processor, increased memory, and up to 2x the network speed of previous BlackBerry Curve models from AT&T. A non-camera version will also be available for purchase.
Price and Availability
The BlackBerry Bold 9900 will be available starting November 6 for $199.99 with a two-year contract online and in company-owned retail stores. The all-touch BlackBerry Torch 9860 will be available online the same day for $99.99 with a two-year contract. The BlackBerry Curve 9360 will be available for $29.99 with a two-year contract starting November 20 in company-owned retail stores and online. The BlackBerry Curve 9360 will be available to business and government customers on November 14 while the BlackBerry Bold 9900 and all-touch BlackBerry Torch 9860 will be available in those channels starting November 7.
Quotes
"Our BlackBerry enthusiasts will welcome these three new BlackBerry smartphones to AT&T's premium smartphone lineup – the new BlackBerry Bold 9900, all-touch Torch 9860 and Curve 9360," said Jeff Bradley, senior vice president, Devices, AT&T Mobility and Consumer Markets. "From new and improved versions of BlackBerry classics to AT&T's first-all touch BlackBerry smartphone as well as 4G models, our leading suite of BlackBerry smartphones has something for everyone – government, business and everyday consumers - at the best prices available in the market."
*AT&T products and services are provided or offered by subsidiaries and affiliates of AT&T Inc. under the AT&T brand and not by AT&T Inc.
4G speeds delivered by HSPA+ with enhanced backhaul. Not available everywhere. Deployment ongoing. Compatible device and data plan required. Learn more at att.com/network.
Important Information: Limited-time offer. Coverage not available in all areas. Two year agreement with qualifying voice plan and a minimum $15 a month smartphone data plan required. Smartphone data plan requirements differ for CRU customers. Subscriber must live and have a mailing address within AT&T's owned wireless network coverage area. Up to $36 activation fee applies. Equipment price and availability may vary by market and may not be available from independent retailers. Early Termination Fee: None if cancelled in the first 30 days, but up to $35 restocking fee may apply to returns; thereafter up to $325. Some agents impose additional fees. Other conditions and restrictions apply. See contract for details. Sales tax calculated based on price of unactivated equipment.
International Roaming: Activation of international service may be required. International roaming apply outside the U.S., Puerto Rico, and U.S.V.I. Visit att.com/worldpackages and select Packages to view rates and available discount plans. Restrictions apply. Coverage, service and features while roaming are not guaranteed. International roaming pay-per-use rates apply in countries outside the roam zone.
About AT&T
AT&T Inc. (NYSE: T) is a premier communications holding company. Its subsidiaries and affiliates – AT&T operating companies – are the providers of AT&T services in the United States and around the world. With a powerful array of network resources that includes the nation's fastest mobile broadband network, AT&T is a leading provider of wireless, Wi-Fi, high speed Internet, voice and cloud-based services. A leader in mobile broadband and emerging 4G capabilities, AT&T also offers the best wireless coverage worldwide of any U.S. carrier, offering the most wireless phones that work in the most countries. It also offers advanced TV services under the AT&T U-verse® and AT&T |DIRECTV brands. The company's suite of IP-based business communications services is one of the most advanced in the world. In domestic markets, AT&T Advertising Solutions and AT&T Interactive are known for their leadership in local search and advertising.
Additional information about AT&T Inc. and the products and services provided by AT&T subsidiaries and affiliates is available at http://www.att.com. This AT&T news release and other announcements are available at http://www.att.com/newsroom and as part of an RSS feed at www.att.com/rss. Or follow our news on Twitter at @ATT.
© 2011 AT&T Intellectual Property. All rights reserved. Mobile broadband not available in all areas. AT&T, the AT&T logo and all other marks contained herein are trademarks of AT&T Intellectual Property and/or AT&T affiliated companies. The BlackBerry and RIM families of related marks, images and symbols are the exclusive properties and trademarks of Research In Motion Limited. All other marks contained herein are the property of their respective owners.