New Apple Watch challenge encourages wearers to partake in a 5K for Thanksgiving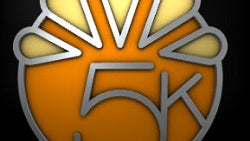 For our readers in the United States, Thanksgiving is just a few short days away. Thanksgiving is most notably a time for family and stuffing yourself with as much home-cooked food as possible, but according to Apple, we should also spend this time being physically active. Owners of the Apple Watch have reported that they've received a new Activity Challenge notification on their device this morning encouraging them to get moving this Thanksgiving.
The message for the Challenge reads, "Activity Challenge: This Thanksgiving Day, November 24th, earn a special achievement by completing a walk, run or wheelchair workout of at least 5K (3.1 mi)." If you find time to complete the challenge, you'll not only earn a shiny, new medal int he Activity app, but you'll also get a new sticker that you can use with iMessage if you're running iOS 10 or later.
Don't own an Apple Watch but still want to get in on the action? No problem. Apple has said that any activity-tracking app that is able to connect and sync with the Apple Health app on iOS will be able to take part in this challenge as well.
So, if you live in the US and are planning to chow down on turkey and stuffing this Thursday, make sure you set some time aside to sneak in a 5K before you begin your Black Friday shopping spree.