Need an unlocked, feature packing, dual-SIM phone on the cheap? Here is one for $13
13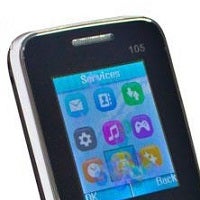 Dual-SIM? Check. MP3 player? Check. microSD expansion? Check. Flashlight? Check. FM radio? Check. No, this is not a low cost assault on smartphones, this is a low-cost option for any phone just about anywhere.
We say "just about anywhere" because this device, the MP105Z0, branded as the "105" from a manufacturer "MORE," will not work in North America or other parts of the western hemisphere (or the world for that matter) where GSM frequencies of 900 and1800MHz is not used.
This feature phone is packing the features for what you pay, a "big" speaker, music player, FM receiver, Bluetooth and Wi-Fi, along with dual-SIM for just $13.04. If you buy more than 50, the unit price goes down to $12.
The camera is sub-2MP, so we are not sure how many pictures you might fit on a 32GB microSD card, but go for it. Are there any compromises? You bet! 4G/LTE compatibility is not even a twinkle in this little device's eye. For that matter, neither is 3G/UMTS. No, you will have to slum it using 2G.
The other compromise is language availability. As long as you speak either English or Russian, you will be in good shape. Outside of that, you are on your own.
We have seen other ultra-affordable devices in the past, but this one probably takes the cake. This could be the perfect traveling companion or back-up device that could get lost or broken and not induce panic in the process.
sources:
DHGate.com
via
The Red Ferret
The dual-SIM "105," just $13