NY designers FormNation turn the iPhone into a sleek e-ink phone that nods to b&w cameras
7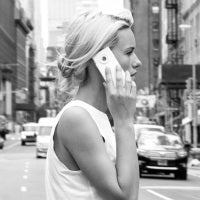 NY-based design consultants FormNation showed off an interesting creation of theirs. The E-Phone is the first all e-ink smartphone in the world that one may actually find attractive. While the YotaPhone 1 & 2 are dual-screen devices and the Onyx Boox is basically an e-reader that also makes calls, the FormNation phone is both a design and technological statement.
Designer Jan Habraken and his team based the project off each others' iPhones and their inherent pain-points: big price, compromised battery life, heating up after prolonged use and signing up for Apple's services. Thus, they made up a phone that can last up to a month on a single charge, can be procured on the cheap, and does what a smartphone is expected to do these days - keep you connected.
While you won't be able to enjoy the latest 3D games on the phone's frugal e-ink display, you will get zero sun glare and an awesome reading experience. Even the e-ink display's black & white color scheme and notoriously slow refresh rate have become beneficial. The phone's camera creates true b/w images and generates stop-motion GIF images instead of 1080p video.
Well, FormNation might have just made the best backup phone ever.