NVIDIA announces five new Tegra 3 games that are being showcased at E3
10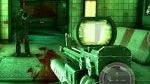 Good news for anyone out there sporting any of the available
quad-core NVIDIA Tegra 3
powered devices out there on the market, as NVIDIA announced
five brand-new TegraZone games
that are being showcased at their E3 booth in Los Angeles today.
NVIDIA has surely been busy of late, as they recently announced a
partnership with Nyko to introduce gaming pads
for its Tegra 3 devices, but this time around, we're seeing some of their efforts in the actual gaming experience front. Specifically, they unveiled five new Tegra 3 enhanced games that are in playable for the first time through NVIDIA's E3 booth – the new titles include
Dead Trigger, Puddle THD, Demon's Score THD, Bounty Arms, and Heroes Call
.
Comprising an eclectic mix of game types, from action to role playing, these games are showcasing the graphical prowess of NVIDIA's prized quad-core processor. Naturally, the developers of these games are tapping into the awe-inspiring power of Tegra 3, which is aiming to take the mobile gaming market by storm with its
4-PLUS-1 quad core mobile processor
.
Although they're in playable form at E3, there's no word yet on pricing or download availability with each respective game.
source:
NVIDIA