Move over, Hollywood: self-destructing phones are now real
8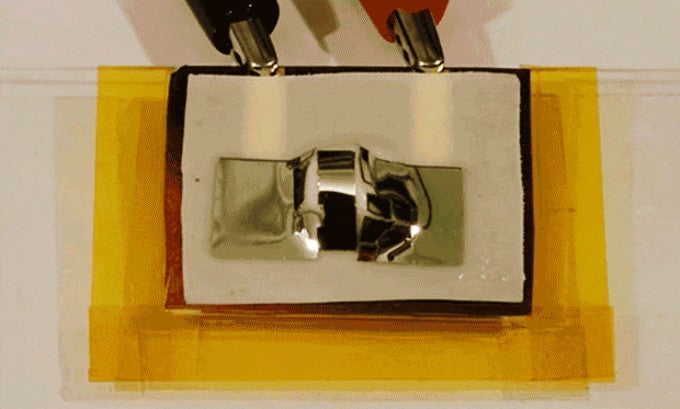 A demonstration of the new technique
We've all been there before: you're on a top-secret mission in enemy territory, when suddenly you realize you've been made, and have to immediately dispose of your electronics. Up until now the only options available were physically breaking it and hoping for the best, but that is both risky and takes time. Thankfully, the Saudi Arabia-based King Abdullah University of Science and Technology (KAUST) has invented a cheap and easy solution for you, the average consumer.
The science goes like this: a layer of a special polymer is applied to a silicon chip inside a given device, and lays there dormant, unless it gets heated above 80°C (176°F), when it expands rapidly and in the process destroys the chip it's attached to. Heating the polymer is achieved using roughly 500 to 600 milliwatts of electricity, which trigger the reaction. The researchers also claim the temperature requirement can be fine-tuned through the use of different materials. The destruction of the device happens in about 10-15 seconds, which is much faster than already existing methods, and can destroy chips up to 90 micrometers thick.
But fear not, our little spies, for you can also kill your phone from a distance, and escape from danger in a timely manner! The researchers devised a number of scenarios for triggering the destruction, including killing it when moved from its original location (via the built-in GPS sensor), when illuminated (via a light sensor), when opened (via a pressure sensor), and even when a special code is input into a smartphone app. While the mechanism currently only works on silicon chips, the KAUST team plans to test it on other electronics, such as printed circuit boards and hard drives.
The new approach is superior to older alternatives, as it can be used on almost any device, without requiring a separate chip. It's also really cheap – cost estimates put it at about $15 or less, depending on volume. Muhammad Mustafa Hussain, the lead researcher behind the project, says: "The first customers would be the ones who need data protection: Intelligence communities, corporations, banks, hedge funds, social security administrations, collectors who handle massive data," which is unfortunate for those of us who want a self-destructing phone right now. Oh well, guess we'll have to settle for buying a black market Galaxy Note 7, then.