Motrr Galileo for iPhone Kickstarter projects gets $700k funding
5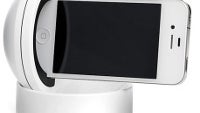 Motrr Galileo
is another Kicstarter sci-fi dream to come into reality - a robotic rotating stand/mount/dock/platform that can be controlled on iOS, that managed to hit seven time its initial $100,000 funding target and get a green light to go into mass production.
Motrr's Galileo brings remote-controlled motion that will give you a feeling of controlling what you see ,moving it 360 degrees at speeds up to 200 degrees per second in any orientation. It's slick, designed beautifully and coming in black and white versions, and it easily doubles as a capable tool for photographers.
The Kickstarter price to get it was a pledge of $85 with free US shipping, but now that it's entered mass production the price is hiked to $129.95. Still, there's a promo going on that sells the Galileo for $116.99, so you'd better smarten up and get it now while the deal lasts, if you like it of course.
The device itself weighs a mere 7 ounces and is 2 inches tall, and 3 and a quarter inches round It comes with a standard tripod screw, so you can mount it to any tripod. And before you check out the video below, here's the list of compatible devices:
- iPhone 4, iPhone 4S, iPod touch 4th gen and newer.
Motrr surpasses Kickstarter fundraising goal by 600% for Galileo
Galileo, a revolutionary iOS-controlled robotic iPhone platform, is now available for pre-order at Motrr.com
SANTA CRUZ, CA – June 13, 2012 – Motrr, led by the designers behind the Gorillapod™ line of innovative camera tripods, is pleased to announce the success of their recent Kickstarter campaign for the Galileo. Galileo, a revolutionary iOS-controlled robotic iPhone platform with infinite spherical rotation capability, became one of the highest funded Kickstarter projects to date, receiving over $700,000 in pledges. Motrr surpassed its fundraising goal of $100,000 in only a few days, making its project one of the fastest to reach the funding goal. The Company anticipates shipping units to Kickstarter backers this summer. Those who missed the Kickstarter campaign and still want to be among the first to own this exciting piece of technology can now pre-order their Galileo at www.motrr.com.
"We want to extend our gratitude to all of the Kickstarter backers who have supported our Galileo project," says Motrr CEO Rob Born. "Motrr's mission is to add a whole new dimension of control and motion to a variety of photography devices. Galileo is just the first of several exciting products we plan to bring to market in the near future. Our team is deeply passionate about robotics, photography, and cinematography. Ultimately, we are focused on creating products that inspire creativity and allow for more rewarding human interactions."
With applications in areas of photography, cinematography, social networking, video conferencing, social networking, baby monitoring, remote learning, and more, Galileo gives iOS devices endless possibilities of remote-controlled motion. Features include:
• Infinite spherical rotation capability
• 360° panning and tilting rotation; 200° per second pan-and-tilt speeds
• Ability to control your iOS device remotely from your iPad, iPhone or web browser while providing a new use for your old unused iPhones and iPods
• An SDK (software developer's kit) for app development, which provides the freedom to integrate Galileo functionality into existing apps or other software to control additional hardware such as camera rails; one can also create new apps to integrate Galileo with software or hardware
• Tripod screw, which enables you to mount your Galileo onto any tripod
• Charging capability for your iPhone or iPod
• A rechargeable lithium polymer battery
The Galileo weighs 7 ounces, is 2 inches tall, 3 ¼ inches round, and will be sold for an MSRP of $129.95.