Motorola adds a student discount and new college-inspired designs to the Moto Maker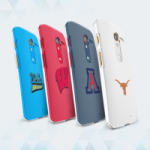 Motorola has introduced a CollegeCollection to its Moto Maker platform for customizing the Moto Xsmartphone. It features a selection of 43 state and college-inspiredcombinations of colors and emblems. There are nine new back colorsand three new accents added to the Moto Maker palette, which can bemixed and matched with different emblems.
A custom Moto X from the CollegeCollection starts at $399 off-contract or $49 with a new two yearcontract. Students with a valid .edu e-mail address can get anoff-contract Moto X for the discounted price of $339. That's a $60saving which, as Moto says, is "worth cheering about." Andif you own a Moto X and just want a case from the collection, thatwill cost about $35.
source: Motorola