Motorola ZINE ZN5 now official
10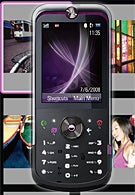 Today, Motorola and Kodak announced their first joint phone, the
MOTOZINE ZN5
. This is the first 5-megapixel cameraphone of the U.S. manufacturer, coming years after the competition has released its models. The ZN5 is touted for its fast speeds (start and between pictures), the Xenon flash and "KODAK Imaging Technology with optimized settings for low-light environments". The phone will also have fast access to KODAK online gallery or other web sharing sites for transferring the pictures online.
As a phone, the ZINE ZN5 can work worldwide, since it is a quad-band GSM/EDGE. It lacks 3G support, but has WiFi, to be used as a data source for the full HTML browser.
Motorola MOTOZINE ZN5 will be first available in China, beginning next month, and is expected to launch in the rest of the world later this year.
source: Motorola