Morgan Stanley: T-Mobile could merge with Sprint or buy out U.S. Cellular in 2017
6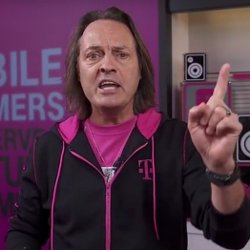 Morgan Stanley analyst Simon Flannery says that the 2017 outlook for the telecom sector resolves around the letter "T." Flannery says that the telecom industry's direction next year depends on taxes, Treasuries (meaning the direction and magnitude of changes in interest rates) and T-Mobile. The nation's third largest carrier has a number of balls in the air according to the analyst, and what the carrier decides to do with them could result in a bullish or bearish telecom sector next year.
The best scenario for T-Mobile and the industry would be a merger with Sprint, Flannery says. He also sees this as being the least likely of all the options open to T-Mobile president and CEO John Legere. A merger between the third and fourth largest U.S. carriers would allow for some huge synergies, but could face a tough regulatory climate. In addition, you have two pretty tough executives running each company in John Legere and Marcelo Claure. Could both of them work together? Legere has pretty much insulted every executive in the industry and has gone after Sprint with T-Mobile's MetroPCS pre-paid unit.
Another scenario where T-Mobile could be bought involves one of the cable/satellite companies looking to get into the business.
Comcast is said to be interested in becoming a carrier
, and is expected to launch an MVNO in 2017 using the Verizon LTE network and the cable firm's 15 million Wi-Fi hot spots. There wouldn't be room for T-Mobile with Comcast. But Dish Network has long been rumored to be interested in buying a carrier, and
actually made a $25.5 billion bid for Sprint in April 2013
. However, a rival bid by Japan's SoftBank won out as the latter picked up 70% of Sprint for $20 billion.
Flannery says that T-Mobile might be a buyer next year instead, and could pick up U.S. Cellular. This would be the third largest U.S. carrier buying the fifth largest, which might result in fewer objections by state-side regulatory agencies. We hasten to note though, that there is no word that U.S. Cellular is interested in being bought out.
T-Mobile being in the midst of the wireless industry has been nothing new over the last few years. The most innovative of the major U.S. carriers, T-Mobile has been setting the tone for the industry, leading the way in the removal of subsidized phones and two-year contracts, offering zero-rated music and video streaming, and using weekly giveaways and aggressive promotions to boost the head count of subscribers.
"In our view, this could be the most attractive outcome, but also the least likely. We think opex synergies could be between $3b-$5b (~15%-20% of FY17 Sprint opex). For context, In 2011, AT&T offered $39bn for T-Mobile (pre- MetroPCS) and indicated that synergies would exceed the purchase price ($40bn in NPV). There could be significant savings from network, distribution, customer care rationalization, reduced churn, avoided capex, and spectrum purchases. This approach would face a long regulatory review given anticompetitive concerns."-Simon Flannery, analyst, Morgan Stanley
Investors might think that T-Mobile is in play. The stock has risen over 13% since the beginning of November.
source:
Barron's