More rumors suggest Nokia is ready to sell their phone division to Microsoft
32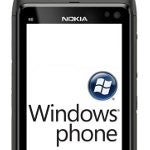 Danske Bank of Denmark issued a statement to their clients this morning that informs them of Nokia's intentions to sell their phone division to Microsoft in the first half of 2012, something the Finnish manufacturer has denied before.
The rumored purchase of Nokia by Microsoft has surfaced multiple times this year and gained some steam when the two companies announced their partnership in the mobile industry. Nokia is going forward with Microsoft's Windows Phone platform on their handsets, beginning with the Lumia 710 and the Lumia 800.
When a rumor of the potential sale first surfaced, it was believed that a deal could be completed by the end of 2011. Nokia was quick to shut it down but this newest rumor fueled by a statement issued by the largest bank in Denmark may be harder to refute. In wake of the issued statement Nokia shares rose 3%.
A Nokia, Microsoft purchase makes sense in many regards. Nokia's own mobile operating system, Symbian, is on its last life and despite not quite taking off yet because of the stiff competition in the form of iOS and Android there is tons of potential with Windows Phone. Do any of you think that it is only a matter of time until Microsoft buys Nokia?
source:
BGR