Microsoft working on high quality 3D face scanning using a Windows Phone camera
16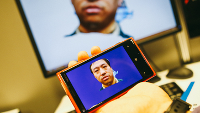 Using what it calls Skynet UI, Microsoft Research is working on a way to scan faces using a regular Windows Phone camera, and print out a high quality image using a 3D printer. The process of turning physical objects into 3D models is called 3D Reconstruction, and the Skynet UI is supposed to make the whole process a lot easier for consumers to do.
Based on an accompanying video that shows face scanning using a Windows Phone handset, you're simply taking a 360 degree photo of a face. The program on the camera gives you cues when and where to move, similar in some respects to the panorama photograph apps that are available on most smartphone platforms today.
After you scan a subject's face, you can move it around on the screen, keeping the 3D representation. Connecting to the 3D printer would allow you to produce a 3D model of a person's face. There might not be too many uses for face scanning by the average consumer right now, but in the future it could be employed as a photography setting on your average handset. 3D Reconstruction could be used to produce virtual store layouts for online retailers, furniture and room layouts, and more.
source:
MicrosoftResearch
via
WPCentral