Microsoft posts Windows Phone 8 GDR2 changelog, doesn't mention the features we expect
7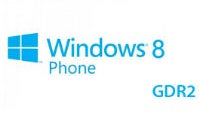 We have heard bits and pieces about the next update for Windows Phone 8, codenamed GDR2, and we were getting pretty excited to see some of the features that were rumored to be included. Today, Microsoft posted the changelog for the GDR2 update, and unfortunately it doesn't list the features that we expected to see, although that doesn't mean they won't be in the update. The features Microsoft lists are:
Xbox Music

. It's now easier to select, download, and pin music. Plus, music fans will see more accurate metadata (such as song and album information) and many other performance improvements.

FM radio

. Listen to FM radio right from the Music+Videos hub. (Not available for all phones.)

Data Sense

. Stay on top of your phone's data usage with Data Sense. You can set a limit based on your data plan, or just keep track of which apps use the most data. (Not all mobile operators offer Data Sense.)

Skype

. Voice over Internet Protocol (VoIP) apps like Lync and Skype now feature improved stability and performance.

Internet Explorer

. Your web browsing experience is now better than ever with improved HTML 5 compatibility.

Camera

. Set your favorite Lens so it opens automatically when you press the camera button. (Not available for all phones.)

Other improvements

. Includes many other improvements to Windows Phone.
It's that "other improvements" category that we're interested in, because while the other improvements do sound pretty nice, we had heard that GDR2 was going to bring
CalDAV and CardDAV
support for Gmail users, which is one feature that we would really like to see as soon as possible. Another rumor was that GDR2 would start the habit of Microsoft updates being
bundled with OEM updates
. We didn't really expect that to be in the changelog though.