Patent application filed by Microsoft takes a popular Surface Pro accessory to the next level
2
The patent reveals a Surface Pen (called a digital inking device in the documentation) with a status bar that "provides contextually relevant information." In the "first interaction model," a touchscreen status bar allows the user to select the width of the "tip" being used (creating thin or thick lines), the color of the images drawn by the pen and also provides other UI options. In addition, the pen also provides the user with email notifications. Once the pen is in contact with a Surface Pro, Surface Go or other compatible Windows 10 devices, it goes into the "second interaction model" and displays only email notifications and a battery status indicator.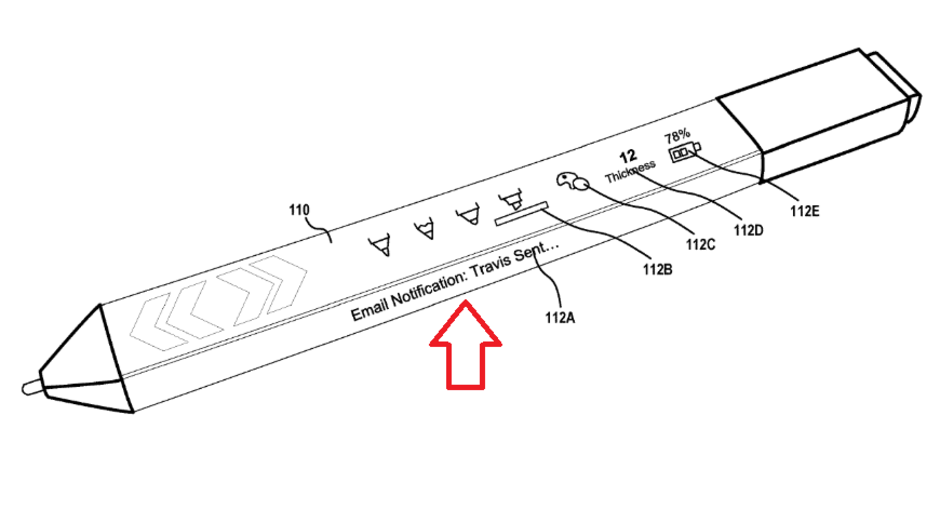 Image from Microsoft's patent application shows a Surface Pen with a touchscreen status bar issuing email notifications
The patent application notes that the options on the pen's touchscreen will change depending on the way it "is held by the user, a fingerprint of a user, an angle and/or distance of a digital inking device with respect to a paired computer, a particular grip a user has on a digital inking device, an amount of pressure that is used to hold a digital inking device, a contact pressure between a digital inking device and a paired computer, and/or one more gestures performed by a user."
While many tech firms file a number of patents each year, not all of the technology protected will immediately make their way to consumers. However, we would imagine that a Surface Pen with a touchscreen status bar could become available in the near future.