Microsoft and Google in a contest for…second
99+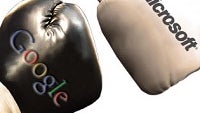 While Apple sits at the top of the list of most valuable companies, roughly $760 billion by market cap, Microsoft and Google have seen their respective market values rise as well, bolstered by steady revenues and market growth.
The two companies' respective market values barely eclipse that of Apple, making their place for the second spot on the list a distant one.
As it stands, Microsoft closed on Friday with a market cap of roughly $392 billion on the heels of a largely positive quarterly earnings report. Google's earnings did not seem to have as much momentum, the bane of declining ad revenue, but expanded cloud services at the apparent expense of Amazon have the search giant valued at about $384 billion.
Microsoft and Google are not only positioning as second-most-valuable "tech" companies, but second-most-valuable companies, period. It was not even a year ago that either of these companies were challenging Exxon Mobil for that position. Now both companies have grown well beyond the energy giant's valuation, and while they are not anywhere near approaching Apple's market value, their trajectory is decidedly upward.
Indeed, the technology sector is doing well, and there is something right about seeing Microsoft and Google competing head-to-head in so many areas, even if it is not really an even match-up in mobile.
reference:
TechCrunch