Microsoft finally brings Minecraft Earth on Android devices, but only in beta
1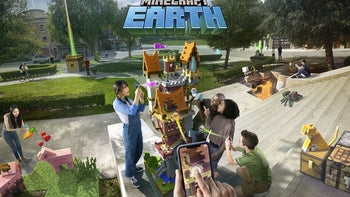 Microsoft revealed its Minecraft Earth AR (augmented reality)
back in May
and made it available to iOS players
just one month ago
. The game is still in beta, but usually, developers launch their products on both platforms if they want to test them thoroughly before launch.
Although Android users were skipped from the launch of the beta version of Minecraft Earth, Microsoft is about to correct that in about a week. Developers confirmed on
Twitter
that their game will be made available to Android users next week, albeit still in beta.
Those interested in the beta must sign up for Minecraft Earth on the game's dedicated website. To play in the closed beta, you'll need a smartphone that runs at least Android 7.0 Nougat. Also, you need a Microsoft or Xbox Live account, app store log-in, and answers to a few questions to complete your registrations.
If you don't have a Microsoft or Xbox Live account, you can create one for free. If you manage to get into the closed beta, you will receive a free skin for Minecraft Earth and Minecraft Bedrock, which is only available for a limited time.