MediaTek announce world's first multimode wireless charging solution, charge wirelessly regardless of equipment and standards
15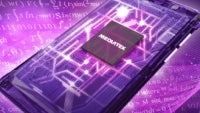 After introducing the world's first true octa-core mobile CPU, Taiwan-based MediaTek is leading the pack again. At CES 2014, the company announced that it has successfully developed multimode receiver technology for inductive and resonant wireless charging. According to the chip-maker, resonance charging offers "significant advantages" in comparison with traditionally used inductive chargers. For example, it lets you place the device anywhere in relation to the charging station, or even in another room, instead of aiming for a precise spot. It also has the ability to charge multiple devices of varying form factors and power consumption from a single charger coil.
The resonance method seems to be what wireless charging was about in the first place - glorious cable-less freedom. But if you were an early adopter of devices with inductive chargers, worry not - MediaTek's invention also allows charging from both existing inductive chargers and upcoming resonance chargers. Apart from a new level of user comfort, the advancement in technology could bring wider adoption of wireless charging, which has been slow due to competing standards. According to analyst Ryan Sanderson at IHS, the number of wireless charging receivers shipped to the market, which was 20 million in 2013, could reach 700 million by 2018.
While it's early to tell whether MediaTek's advancement will make wireless charging a de-facto standard, the technology, at least on paper, has the potential to do so. Who would want the hassle of wall-chargers and battery packs if the device could be left anywhere and literally charged over the air?
For those of you curious about more details on resonance charging, MediaTek's Director of Strategic Marketing, Mark Estabrook, has penned a 15-page technical presentation,
available here
.
source: MediaTek