'Made in the USA' - Here's three pairs of smartphones by three of the greatest American tech companies
49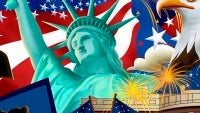 Apple, Google, and Microsoft. It is their names that first come to mind when we think of companies that ambitiously engineer computing devices in America. Smartphones, tablets, computers, smart-watches and imaginitive accessories are the vessels propelling forward their visions for a connected future. And it is you, the simple customer or the passionate power user, who reward their hard work and reap the benefits.
Between September and October 2015, Apple, Google, and Microsoft all did something unusual — among everything else they do, they released a pair of high-end smartphones each! Yes, we are a mobile technology website, but this is hardly the only reason we're primarily interested in them. Out of most gadgets out there, it is smartphones that enjoy the widest appeal and the largest market. Which is why their creators want them to not only be excellent gadgets, but also gateways to the rest of their products, as well as creative platforms whose possibilities are to be explored by creative developers.
Simply put, smartphones is where these companies give it their best, which is one of the reasons why the Apple iPhone 6s & 6s Plus, the Google Nexus 5X and 6P, and the Microsoft Lumia 950 & 950 XL are so incredibly interesting! Here's your introduction to three great pairs of handsets designed by three of America's greatest technological companies.
Apple iPhone 6s and iPhone 6s Plus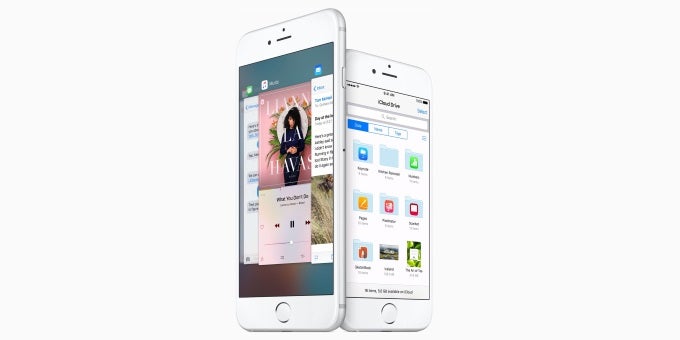 The iPhone 6s and 6s Plus are refined improvements over the previous-generation iPhone 6 and 6 Plus. Representing one of the biggest S cycle upgrades in the device's history, the smartphones bring stand-out features, such as the new 3D Touch technology built in the home screen, the upgrade to a 12-megapixel camera that's capable of recording 4K video, and a brand new Apple A9 system chip. There is lots in the new iPhones to be fascinated with — see for yourself!
Design

The new iPhones are arguably the best-looking yet, built out of Series 7000 aluminum and colored via an anodizing process combined with dye. The iPhone's iconic look is familiar in most parts of the globe and stands out with rounded edges for a comfortable grip, a Mute switch which disables notifications, and a Home button with a built-in fingerprint scanner that's positioned below the display. While subjected to many arguments and controversies (antenna-gate, retina-gate, et cetera) over the years, the iPhone has felt consistently nice in the hand, and the latest generation is absolutely no exception. The iPhone 6s and 6s Plus are available in Space Grey, Silver, Gold, and Rose-gold.



Display

The iPhone 6s has a 4.7-inch display while the iPhone 6s Plus has a bigger, 5.5-inch panel. Both devices utilize IPS LCD technology. Screen resolutions are 750 x 1334 for the iPhone 6s and 1080 x 1920 for the iPhone 6s Plus. The displays are also covered in scratch-resistant glass. From our experience, the new iPhones' screens boast very good brightness levels, no problems with viewing angles, and mostly accurate color reproduction, making them excellent for browsing and multimedia viewing.
Interface and Functionality
The iPhone 6s and 6s Plus run iOS 9, which presents users with a complete ecosystem of services. Of these, the most notable are Safari, which is a very nimble and intuitive browser; iCloud, which offers system backup and data storage facilities; iTunes and Apple Music, the places for downloading and streaming multimedia content; The App Store is home to iOS apps, with recent ones optimized to take advantage of the iPhone 6s Plus' larger display. Siri is a clever voice assistant that understands contextual cues and allows for system-wide searching.
While we're at it, iOS users are priviliged to the excellent iLife suite of document editing apps, along with Garageband, an amazing band-in-the-box type of app that's great for making music on the spot. A notable new addition to iOS 9 that's exclusive to the latest iPhones is 3D Touch, which gives users useful Peek and Poke contextual gestures across apps and menus by holding their fingers on screen and applying different amounts of pressure. To get a thorough understanding for iOS 9, read our comprehensive review of the iPhone's operating system.
Hardware
Both devices run on the Apple A9 SoC, which includes a PowerVR GT7600 GPU and 2GB of LPDDR4 RAM memory. Built on 14nm or 16nm processes, the new chips are up to 70% faster than the previous generation ones in CPU tasks, and up to 90% faster in graphics processing. Memory-wise, the iPhones come in 16GB, 64GB, and 128GB variants. Expansion via microSD cards is not an option.
Camera
The latest iPhones have great 12MP rear cameras and very good 5MP front cameras. The rear camera's virtues include a dual LED flash system, 4K video recording, time-lapse and slow motion video. A digital image stabilization prevents shakiness. Also, the front camera pulls off a useful trick to make up for the lack of a flash — it illuminates your face with its screen, while a dedicated chip estimates the right color temperature for correctly lighting up that beautiful face of yours.
Price
$199
(on contract) -
$649
(retail) for the 16GB iPhone 6s.
$299
(on contract) -
$749
(retail) for the 16GB iPhone 6s Plus.
Google Nexus 5X & Nexus 6P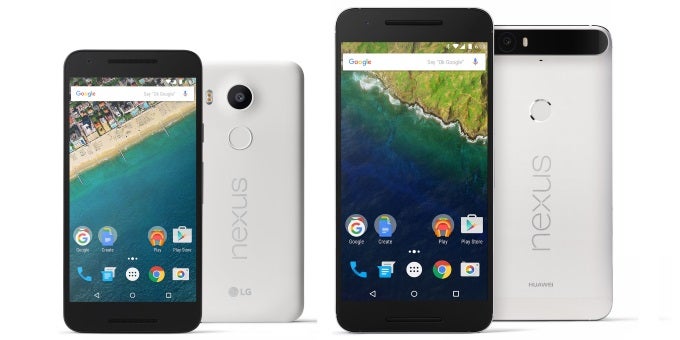 Produced by Google and built in partnership with top Android device makers, Nexus devices have been a thing since 2010. This year marks the first time Google unveiled a pair of Nexus smartphones, though. The Nexus 5X is a heartfelt homage to the much lauded Nexus 5 from 2013, built by LG and featuring equal amounts of nostalgia and modern hardware. The Nexus 6P is a tricked-out Huawei phablet with a large display and an aluminum build. These devices run the latest Android 6.0, nicknamed Marshmallow, and are designed to showcase the best of Google's apps and services.
Design
The Nexus 5X has an understated look and its back panel is made out of grippy, rubberized plastic. Although more practical than fashionable, the 5X is nevertheless elegant. Fans of more premium-feeling smartphones would have to go for the Nexus 6P, though, as this one is built out of aircraft-grade aluminum and looks quite respectable, but also thinner than the Nexus 5X. Of note is the oversized camera hump you'll find on its back. This unusual glass window houses the smartphone's camera and antenna components, making it a meaningful deviation from the 6P's aluminum vibe.
These differences aside, both phablets feature stereo speakers on the front, fingerprint scanners on the back, and have a single nanoSIM slot. They don't have microSD cards, removable batteries, or physical navigation buttons.
The Nexus 5X is available in Black, White, and Ice Blue. The Nexus 6P can be had in Aluminum, Graphite, and Frost.
Display
The Nexus 5X comes with a 5.2-inch, 1080p resolution IPS LCD display whose pixel density measures 424 pixels per inch. Moreover, the Nexus 5x's display is covered in Gorilla Glass 3 and features a fingerprint and smudge-resistant oleophobic coating.
The Nexus 6P has a bigger, 5.7-inch screen that uses a latest-generation Samsung AMOLED panel with a 1440 x 2560 resolution. Google claimed that it had created "a very tight spec" for the display's color accuracy and needed the "most cutting edge panel technology' available, so partnering up with Samsung makes perfect sense, as Sammy's latest AMOLED screens have fared extremely well in terms of image quality and color reproduction.
Interface and Functionality
Being Google phones, both Nexuses have their main functionality sorted out by Big G's all-encompassing suite of apps. It seems whatever your need is, Google has you covered. Of note here are Chrome, which is among the most feature-rich mobile browsers you can find; Drive, which is a friendly cloud storage solution; Maps, a navigation app of very high quality; Docs, which is a set of simple, yet accomplished document editing applications connected to the cloud; Google Now, a contextually aware voice controlled assistant and search engine; Play Store, a home to Android applications, multimedia and entertainment. With Android Marshmallow, the Nexus 5X and 6P can take advantage of their fingerprint sensors to use Android Pay, an NFC-enabled mobile payments system, in the United States.
Android itself is a rather straightforward and uncluttered operating system, although one that runs deep if one is interested in customization and modding. If something doesn't work the way you want it out of the box, chances are someone else has had the same problem and taken care of it. This has long been an outstanding characteristic of Android, one that feels foreign to iOS and Windows Phone. To get a better impression for Android 6.0 Marshmallow, check out our concise review.
Hardware
Both smartphones use Qualcomm processors. The Nexus 5X has the Snapdragon 808 SoC, which contains a 64-bit hexa-core CPU with a max speed of 2GHz, an Adreno 405 GPU, 2GB of LPDDR3 RAM, signal processors, and a LTE Cat 6 modem. This chipset does well for general use purposes and casual gaming, but complex 3D graphics tend to put it to its knees.
The Nexus 6P is powered by the Snapdragon 810 SoC, which has an octa-core CPU with a max speed of 2GHz, an Adreno 430 graphics unit, and 3GB of LPDDR4 RAM. Although this configuration is fast, our experience with smartphones based on it is consistently one and the same — the chipset is good for short 3D gaming bursts, but longer gaming sessions could render the graphics sluggish and the smartphone noticeably hot.
Storage-wise, the Nexus 5X comes in 16GB and 32GB versions, while the Nexus 6P can be had with 32, 64, and 128GB of memory. Both devices lack microSD slots for expansion.
A notable new hardware addition is the USB Type C port that's present on both the Nexus 5X and 6P. Its addition solves the age old problem of which side of the USB connector is the right one, and provides a larger current to the battery for faster charging. Alas, the USB Type C port on the Nexus 6P only supports USB 2.0 speeds. We don't know what's the deal with the Nexus 5X.
The Nexus 5X is powered by a 2700mAh battery, while the Nexus 6P has a bigger, 3400mAh unit. Wireless charging is not present on either model.
Camera
Both smartphones feature 12.3MP main cameras with f/2.0 aperture size and 1.55µm-sized pixels, a fair bit larger than those found on most high-end mobile imaging sensors. Both smartphones can record 4K videos, as well as impressive 120FPS slow motion clips in 1080p resolution. Also, the two Nexuses have laser-asisted autofocus and dual-LED flash systems for illuminating dark scenes. On the front side, the Nexus 5X has a 5MP camera, while the 6P boasts an 8MP one.
The strong hardware setup is backed by the presence of Google Photos, a service that automatically uploads and organises your photo collection by criteria such as people and places, setting you free of writing tags and descriptions. The service is actually able to identify elements in the scenery, such as beaches and skylines, or group people's faces as they age. With Photos, one can also crop, add filters, and enhance their photos as well as easily share them with friends. There is unlimited storage for photos of up to 16MP resolution and videos of up to 1080p resolution, while larger files use Google Drive storage space.
Price
The Nexus 5X starts at
$379
unlocked for the 16GB version. The Nexus 6P starts at
$499
for the 32GB version.
Microsoft Lumia 950 and 950 XL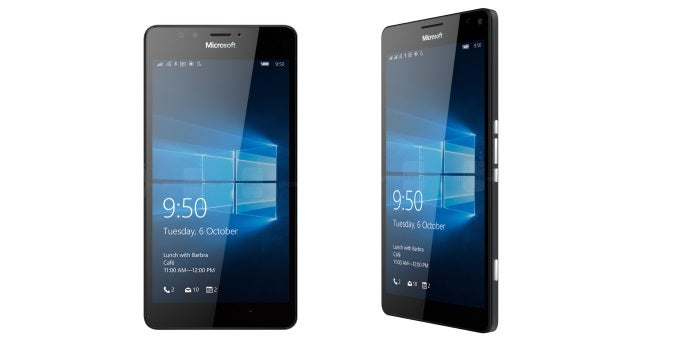 After a prolonged absence from the smartphone game, Microsoft has made an impressive return with the Lumia 950 and 950 XL, two generously spec'd out handsets that run the new Windows 10 Mobile and are exclusive to AT&T in the United States.
Design
Although Microsoft's new smartphones look a bit dull and subdued, with ho-hum plastic builds and not much in the way of personality, they are also elegant and understated. But those preferring their smartphones with a more substantial feel to them won't be very impressed. Lovers of vibrant colors will pass on the opportunity as well, for the 950 and 950 XL are only available in Black and White, certainly not the most lively selection of colors. Specs enthusiasts, however, will have a field day with the new Lumias, for this is where Microsoft's effort mostly went. See for yourself!
Display
The Lumia 950 and 950 XL boast 1440 x 2560 resolution displays, sized 5.2 inches for the former and 5.7 inches for the latter. The screens boast ClearBack technology for minimizing light reflections via an elaborate polarization method, enabling deep and natural-looking blacks.
Interface and Functionality
Being Microsoft smartphones, you don't expect them to run anything other than Windows, do you? Yes, there was a time when Stephen Elop introduced Nokia-branded devices that run Android, but the moment was short-lived. Anyway, it's Windows 10 Mobile running the house here, and having spent a short, but quality time with it, we find it easy to get into for Windows Phone users, while familiar to Windows 10 on a PC in a way. Rather than app drawers and home screens, Windows 10 Mobile uses Live Tiles, which resemble shortcuts to apps and other pieces of content that can be dynamically updated with new information.
What we're really astounded about, though, is the all-new Continuum feature. It has the potential to turn the smartphone into a functional computer using an optional accessory dock with USB and display ports. The desktop experience is relatively faithful with Continuum, as mobile apps like the Microsoft Office suite run identically to what we get on a personal computer.
Hardware
Microsoft used the same Qualcomm processors that Google used for the Nexus 5X and 6P, which isn't surprising, given the chipmaker's stronghold on the mobile SoC market. The Lumia 950 uses the 64-bit hexa-core Snapdragon 808 SoC, which is great for general everyday computing and not that great for intense 3D gaming. The Lumia 950 XL uses the faster Snapdragon 810 chipset, which sports an octa-core CPU but struggles to sustain peak performance under prolonged load. The two smartphones have 3GB of RAM each, which is an ample amount of the stuff to have for multitasking and moving data around.
Memory-wise, the new Lumias come with 32GB of storage that can be expanded via a microSD card slot that's accessible by removing part of the reas casing. The battery is non-removable, though, but the 950 & 950 XL also have a single nanoSIM slot each.
Camera
Microsoft (formerly Nokia's) Lumia line has quite the camera legacy to it — remember the Lumia 1020 and its 41MP camera back from 2013? Well, the Lumia 950 & 950 XL don't go as far. In fact, they are about halfway there, as the smartphones come with 20MP, 1/2.4"-sized camera sensors and f/1.9 aperture lens. Most impressively, the flash on these cameras has not one, not two, but three LEDs to illuminate the scene with and prevent typical photo artifacts, such as red eye.
Turning our attention to the front, we've got 5 megapixel cameras waiting to greet your selfie stick. Microsoft's competent camera interface lets one manually adjust parameters for photo and video taking, taking control over parameters such as focus and exposure adjustment.


Price
The Lumia 950 starts at
$500
unlocked, while the MS Lumia 950XL starts at
$650
unlocked. The handsets will be sold by AT&T and are scheduled to arrive in November.