Long Island DA has a 5-step plan to further discourage texting and driving
15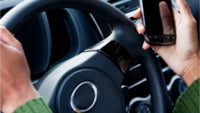 Authorities in Long Island are looking for more enhanced measures to discourage people from texting and driving (because, apparently, the danger of ending one's own or
another person's life
is just not as high-priority as updating one's Facebook status). Nassau County District Attorney Kathleen Rice has actually already developed and gotten to work on a 5-point plan to stop such practices and encourage people to keep their eyes off their phones, while driving.
DA Rice has made an effort to get in touch with heads at Apple, Google, Microsoft, and Blackberry. She sent letters, urging said companies to adopt existing 3rd party technologies, which block texting while driving, and integrate them into their respective mobile operating systems. DA Rice also sent letters to the three major US insurance associations, suggesting that they should give discounts to policyholders, who prove that they have an app that blocks texting while driving installed on their smartphones.
Of course, the DA is not only after smartphone distractions, but reckless driving as a whole. Another point in her plan includes suggesting that the sentencing court should have a plea program specifically for young drivers, which would allow offenders to reduce their charge and sentence, as long as they had their vehicle equipped, pre-sentence, with tech, such as ignition interlock devices, transdermal alcohol monitoring ankle bracelets, or a personal breathalyzer.
DA Rice also requested from Nassau County Police Department to not turn its back charges for texting and driving, if they are present, even when the offender has already been arrested for a higher level charge.
Lastly, the District Attorney's office will create a website, educating people on the technology that is already present and can be used to combat distracted driving. DA Rice will also add said solutions to her "Choices and Consequences" high school education program.
Do you text and drive? Yes, that goes for tablets, as well.
source:
Long Island
via
Engadget